To receive future Davidson Academy Prospective Student eNewsletters, sign up here.


February 2019


Online School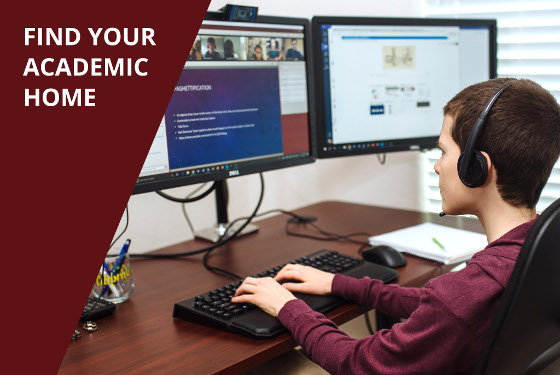 A Vibrant Community Where Students Thrive

2019-2020 Application Deadline Approaching!
The 2019-2020 application deadline for the Davidson Academy online campus is March 31, 2019.

Open to students who live anywhere in the United States, this accredited online option builds off the one-of-a-kind, exceptional framework put in place by the Davidson Academy's Reno day school. The result is a robust online community where students thrive.

The Davidson Academy is the only school designed specifically for profoundly gifted students with classes grouped by ability, not age. Our online, accredited option leverages technology to create a new, highly personalized model of online education.

At Davidson, Online students benefit from:
Live, synchronous sessions
Quality peer interactions
Small class sizes
Responsive, caring instructors
Guidance counseling
College planning
Personalized Learning Plans
Opportunities for socialization
Visit the Qualification Criteria and How to Apply pages to read about the application process. The deadline to apply for the online campus is March 31, 2019.

If you have any questions, please email online@davidsonacademy.unr.edu.



Virtual Open House
Join us to learn more about this exciting online learning option on Wed., March 13, 4 p.m. PT. RSVP here: http://bit.ly/daoopenhouse1819
Student to Student
Hello prospective students! My name is Nate Welsh, I live in Connecticut, and I am in my second year at Davidson Academy Online (DAO). Attending an online high school felt daunting at first, but DAO has been a great fit. My classes are challenging and fit my learning needs and the teachers are extremely helpful, but what I have loved most about my experience is the many close friendships I have developed.

When I first decided to attend DAO, I was admittedly worried about how an online school would work. I wasn't sure if the structure of the school was right for me, as I learn best when learning alongside my peers. I soon discovered that classes at DAO are not all that different from those at a traditional school. Each day, I have two to four Live Sessions. Live Sessions for core classes last 90 minutes, language Live Sessions last 55 minutes, and electives last two hours. During those Live Sessions, the teachers make sure to give us students ample time to collaborate and work together. The staples of a traditional class are all there: presentations, collaborative work time, lectures, hands-on learning, and more. The teachers go out of their way to ensure that we have opportunities to work with our peers. Thanks to their efforts, the thousands of miles between us seem to evaporate, and the small class sizes ensure that each student is engaged in any group discussions and will receive extra help if needed.

Beyond strong academic offerings, DAO offers many electives and extracurricular opportunities. I have taken classes in web design, mythology, and astronomy, and am currently taking a Financial Literacy elective. These extra offerings add variety to the lineup of courses. I engage in two other extracurricular activities at DAO: I am a member of the Writing Center, which provides feedback to students on their essays, and I was elected secretary after a contested election. These opportunities relate specifically to my interests in writing, allowing me to broaden my academic horizons while doing something that I enjoy. There are many other extracurricular options for those with different interests than mine, such as the Math Club, Games Club, Yearbook Club, and the Math Mentor Assistant program, to name a few. Plus, I engage in several other programs outside of DAO. The flexible hours make it easy to incorporate other extracurricular activities into my schedule.

While there are many benefits to DAO, my favorite part of the program has been meeting new friends that live all across the country. I talk in group chats and host calls to talk with my friends on a daily basis. We all feel very closely connected, as there is a sense of real, genuine community in our school, even if we only see each other as pixels on a screen. My favorite DAO-related memories came from the two meetups that we have had. Over winter break, about 20 DAO families met up in San Diego, Calif. to spend a few days together. Aside from being surprised at how short or tall our friends were, the transition from being virtual friends to being real friends felt completely natural. Ever since the meetup ended, we haven't stopped talking about when we can meet up next! There was also a meetup in Reno, Nev. last summer. It was also an amazing experience as we got to meet some of our teachers and take a tour of the Davidson Academy and downtown Reno. Both of those trips reaffirmed in my mind just how unique and beneficial this school is. Every single student and teacher is extremely passionate about cultivating this groundbreaking learning environment to best suit our learning needs. I sincerely hope that you consider applying to DAO and joining us on this adventure!

~ Nate Welsh, Davidson Academy Online student
New Davidson Academy Online Campus Overview Video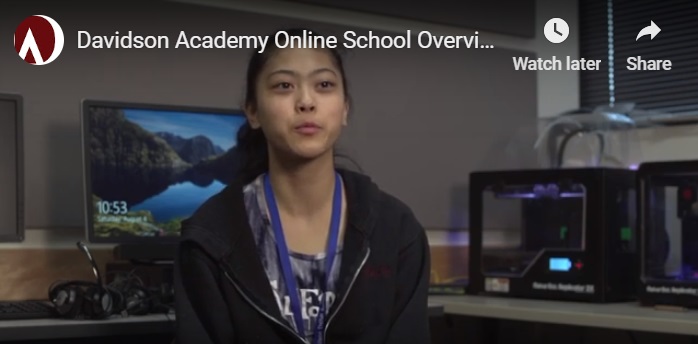 Learn what makes the Davidson Academy Online campus unique from firsthand accounts of those who know the school best - students, parents, instructors and staff - in the new Online Overview Video! Hear about the school's curriculum, social atmosphere and what sets the the Davidson Academy Online campus apart from all the other online schools out there. Also see the main Davidson Academy Overview Video and Alumni Video.
Online Campus - More Info
"Evaluating Online Learning Programs with College Admissions In Mind"
Stacy Hawthorne, Director of Online Learning at the Davidson Academy, offers her perspectives on the growing trend of online learning.
Benefits of Online Learning - Meeting the Needs of Profoundly Gifted Students
How can online learning be a natural fit for gifted students, and how does Davidson Academy Online specifically personalize education? Learn More >
Reno Campus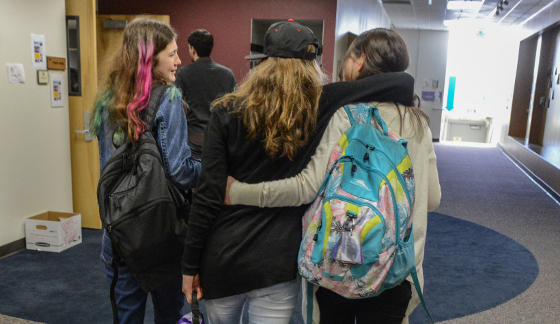 While the deadline to submit applications for the 2019-2020 school year has passed, it's not too early to think about 2020-2021. A free public day school for profoundly gifted middle and high school students located on the University of Nevada, Reno campus, the Davidson Academy provides an environment designed to fit your social and academic needs. If you are interested in applying to the Academy for the 2020-2021 school year, the application will be posted this August. Please review the Reno Campus Qualification Criteria and Reno Campus How to Apply pages of our website for more information.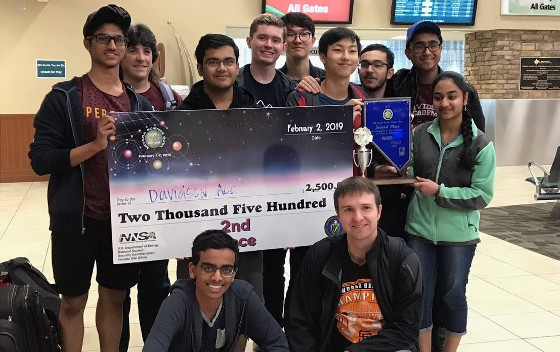 Davidson Academy students recently participated in a Science Bowl competition in Las Vegas, with two teams of five students. One team finished in second place (out of 30 teams) and earned $2,500 in prize money!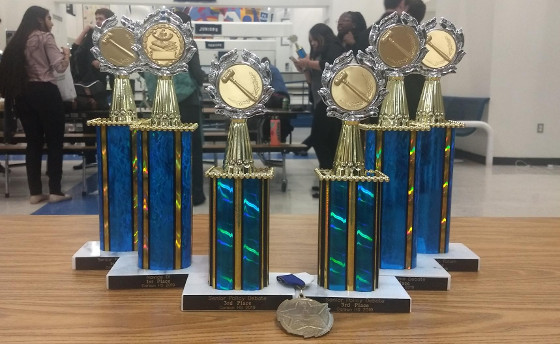 The Davidson Academy Speech & Debate team did very well at its last tournament and is currently ranked third in all of Northern Nevada! Specific student awards below:
Delaney Plecha - 1st place, Novice DI
Kaely Smith - 4th place, Novice Storytelling
Erika Filter - 6th place, Novice Extemp
Derek Chien - 2nd place, Novice Extemp
Emhyr Subramanian - 6th place, Senior Extemp
Debate:
Zane Williams and Annika Mills - 1st place, Senior PF
Samantha Hasegawa - 1st place, Senior Congress
Will Kramer and Oliver Li - 3rd place, Senior Policy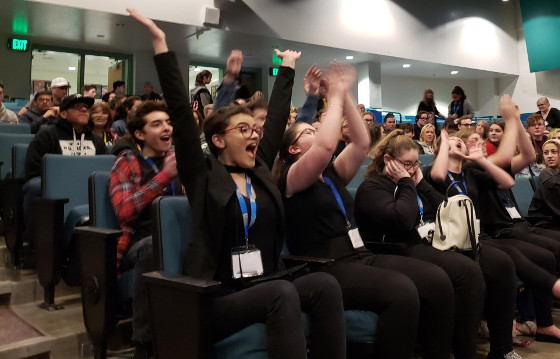 Following the recent Northern Nevada Thespian competition, five Davidson Academy students qualified for the state competition in March in Las Vegas! Congratulations to all!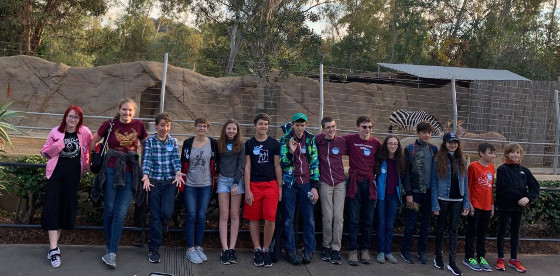 Davidson Academy Online is different from a traditional online education, providing numerous opportunities for socialization. Online students recently had a group outing at the San Diego Zoo!
"While athletically and socially the school has really supported me, hands down, the academic opportunities the Academy offers are my favorite part of the school . . . Little did I know how much I really did fit in intellectually and how much it would have an impact on me. At first it took time and hard work to adjust to the rigorous classes, but thanks to the help of teachers, advisors, and other students I actually adapted to the new environment faster than I expected."

--Sofia Baig, Davidson Academy Graduate
If you have been forwarded this Davidson Academy Prospective Student eNewsletter, and wish to receive future newsletters, sign up here.

Davidson Academy
Reno, Nevada
www.DavidsonAcademy.UNR.edu
communications@davidsonacademy.unr.edu
      
For more prospective student information,
visit the Davidson Academy Tours page.

Davidson Academy eNewsletter Archive.






Connect with us!