To receive future Davidson Academy Prospective Student eNewsletters, sign up here.

The 2018-2019 application for the Davidson Academy's Reno campus is now available! The Davidson Academy offers two educational options specifically designed to meet the needs of profoundly gifted students – an online school for those living anywhere in the U.S. and a day school on the University of Nevada, Reno campus for local residents. See below for more details.
What's New in Gifted Education
Announcing the 2017 Davidson Fellows
Meet the 2017 Davidson Fellows! Davidson Fellows have completed graduate-level projects or portfolios that have the potential to benefit society. Each will receive a scholarship and be recognized for their achievements at a special awards reception in Washington, D.C.

Positive contributions to society made by the 2017 Davidson Fellows include:
Developing a smartphone-based, vision disease detector application that diagnoses diseases within seconds using a low-cost external lens attachment. (Rishab Gargeya, Laureate, pictured left).
Creating a portfolio that takes an interdisciplinary approach to answer three main questions: What causes atrocities to occur? What can prevent these atrocities from occurring in the future? How do we remember genocide? (Carissa Chen, Laureate, pictured right).
Developing a cost-effective, portable, efficient, and readily-accessible tattoo-based biosensor for the early diagnosis and quantification of cardiovascular disease.
Attempting to combat the sanitation crisis in the developing world by improving upon existing toilet technology to create a safe, inexpensive, and sustainable toilet option.
Developing a method to fabricate polymers that could capture heat from an electronic device by covering it, and then using that heat waste to power the device.
300+ content-rich sessions covering 16 topic strands in gifted education
Networking with gifted education leaders, parents, teachers, and renowned researchers
Family Day fun and learning experiences
Live interviews and engaging conversations with leading experts
Exhibit Hall featuring state of the art products, publications, and resources
News from Around the Gifted World
Davidson News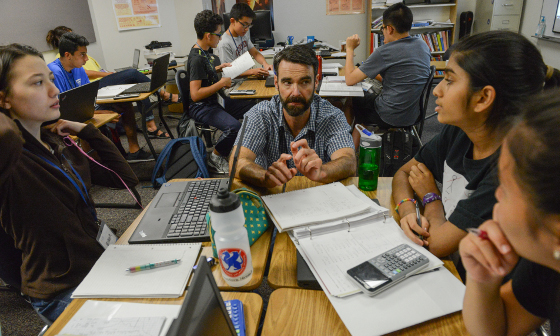 Davidson Academy - Designed to Be Different
The Davidson Academy offers two educational options specifically designed to meet the needs of profoundly gifted students – an online school for those living anywhere in the U.S. and a day school on the University of Nevada, Reno campus for local residents. Academy classes are grouped by ability rather than by age, providing profoundly gifted students an educational opportunity matched to their abilities, strengths and interests.

The Online High School starts with eighth-grade courses for profoundly gifted students living anywhere in the U.S. We are excited to announce the 2018-2019 Davidson Academy Online High School application will open in early October. There are currently students from 10 different states enrolled in the online school! Please read the updated Online High School Qualification Criteria. The deadline to apply is Feb. 28, 2018. If you have any questions, please email online@davidsonacademy.unr.edu.

The Reno Day School is a middle and high school located on the University of Nevada, Reno campus for profoundly gifted students who are local residents. The 2018-2019 application for the Academy's Reno campus is open and the deadline to apply is Jan. 15, 2018. For details, visit the Reno school's How to Apply page. If you have any questions, please email applications@davidsonacademy.unr.edu.
Davidson Young Scholars
The national Davidson Young Scholars program provides FREE services designed to nurture the intellectual, social, emotional, and academic development of profoundly intelligent young people between the ages of 5 and 18 (students must be between the ages of 5 and 16 when applying). Benefits of the program include:
Consulting Services
An Online Community
In-person Connections
Community Service Endeavors
Summer Programs (fee-based)
The Davidson Institute offers FREE, online educational planning guidebooks focused on topics such as advocacy, early college and mentorships, gap year, homeschooling and giving back. These comprehensive guidebooks help direct parents and students through the process of searching for an appropriately challenging educational setting.
Legislative & Policy News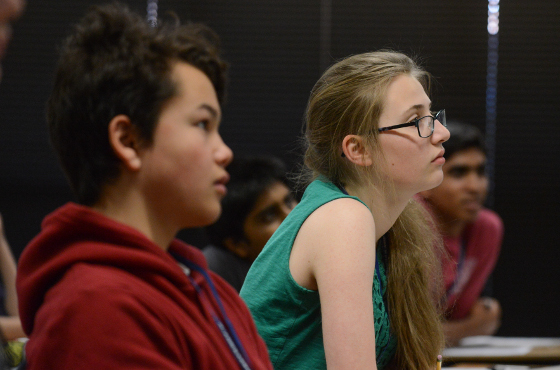 COLORADO – Rocky Mountain Academy of Evergreen plans to work this year on providing teachers with more support to develop plans that will better meet the needs of the school's gifted students. Source: Canyon Courier

FLORIDA – A team of University of South Florida researchers recently received approval to introduce the Advancing Coping and Engagement (ACE) program at 16 high schools in Pinellas, Hillsborough and Pasco counties. Students in Advanced Placement classes will be taught how to become engaged in school, connect with teachers when they need help and develop skills to cope with stress. Source: Education Week

GEORGIA – A new gifted program for elementary students in the Cherokee County school district will be piloted this school year at the Avery and Macedonia elementary schools in Canton. Source: Atlanta Journal Constitution

ILLINOIS – The Accelerated Placement Act, recently signed into law, requires state public school districts to adopt and implement policies on acceleration that, at minimum, provide opportunities for early entrance to kindergarten and first grade, opportunities for accelerating a student in a single subject area, and opportunities for whole grade acceleration. The Acceleration Act, which will take effect July 1, 2018, is designed to increase access to acceleration throughout Illinois and help ensure that districts adopt equitable, effective, and efficient referral, assessment, and placement practices. Source: Illinois Association for Gifted Children

The Report Card Act, recently signed into law, requires the State Board of Education to publish Illinois Report Cards with information about gifted education and advanced academic programs and the number of teachers with gifted education endorsements. Source: Illinois Association for Gifted Children

IOWA – Thanks to a recently earned nearly $2 million grant from the National Science Foundation, the Belin-Blank Center for Gifted Education and Talent Development will continue to strengthen STEM-positive environments for rural Iowa 6th- to 8th-graders through the existing STEM Excellence and Leadership program. Source: University of Iowa

KENTUCKY – The Bowling Green school district recently launched a new gifted education program for students in fifth grade. Source: Bowling Green Daily News

NEW JERSEY – Fewer students will qualify for the Northfield School District's accelerated courses in math and language arts, based on new criteria unveiled this summer. Source: Shore News Today

NEW YORK – A number of parents and gifted advocates are protesting the North Syracuse School District's decision to cut its middle-school gifted and talented program. Source: Syracuse.com

PENNSYLVANIA – The Philadelphia School District recently launched a new method of identifying gifted students designed to be more equitable. Source: CBS Philly
Kathy Liu, Davidson Fellow
Improving Safety and Efficiency in Batteries
Kathy Liu of Sandy, Utah will receive $10,000 for her Davidson Fellows project, "Nature-Based Solid Polymer Electrolytes for Improved Safety, Sustainability and Efficiency in High-Performance Rechargeable Batteries."

What kind of impact can your Fellows project, "Nature-Based Solid Polymer Electrolytes for Improved Safety, Sustainability and Efficiency in High-Performance Rechargeable Batteries" have on society?
Batteries are central to the world of untethered electronics, from handhelds to implantable biomedical devices to robotics. They are also key to enabling many future technologies, including longer-range electric vehicles and more efficient renewable energy storage. However, battery progress has lagged significantly compared to those of other technological developments, and new, more powerful batteries are highly desirable. All modern commercial batteries rely on liquid electrolytes, which not only are the reason batteries are highly flammable, but also bar development of some next-generation battery chemistries because of adverse reactions between the electrolyte and battery components. My project aimed to develop a solid paste to replace the liquid electrolyte, significantly alleviating battery safety concerns, as well as helping enabling the development of more powerful, lightweight battery chemistries. I based my paste off of none other than sugar, a highly available and naturally occurring compound to make my batteries more sustainable and scalable. Solid electrolytes may also allow the manufacture of flexible batteries for wearable electronics.

What are some of your short-term and long-term plans?
I'm so excited to be starting my freshman year at Stanford University this fall. I'll likely be pursuing a major in either materials science & engineering or chemistry, and will continue to research innovative technologies to benefit society. I aim to make an impact especially in the energy industry to create a more sustainable world, and help increase access to safe, affordable energy to everyone. Energy is fundamental to daily life, and there's so much to be done to improve how we use it! I'll also continue working to empower more women to explore and pursue STEM fields.

Please describe your academic setting and some positive experiences with mentors.
I am so thankful for my incredible mentors, Dr. Liu, Dr. Wang, and Yue Lin, who not only answered my endless questions, but also believed in me every step of the way. I've not only learned about practical scientific techniques, but have also been so inspired by their passion, innovative spirit, and endless dedication to chasing the unknown and discovering how to improve upon what we do know. I also am so grateful for my parents' endless support and understanding. My friends, schools, and communities have additionally been amazing support systems.
"In past centuries, creativity was commonly associated with artists, inventors, or scientists, but today creativity is gaining increased visibility across all disciplines, from the boardroom to the classroom."

-- Paula Olszewski-Kubilius
Director, Center for Talent Development
If you have information to include in a future newsletter, please contact us at admin@davidsongifted.org.

If you have been forwarded this eNews-Update, and wish to receive future editions, sign-up here.
Davidson Institute for Talent Development
Supporting our nation's brightest young minds
Reno, Nevada
DavidsonGifted.org
administrator@davidsongifted.org
      
To subscribe, visit the Davidson Institute's eNews-Update archive page.







Connect with us!