To receive future Davidson Academy Prospective Student eNewsletters, sign up here.

The 2018-2019 application for the Davidson Academy's Online High School is now available! We are hosting a live, online open house Mon., Dec. 4 for anyone who is interested in learning more about the Online High School. See the "Davidson News" section below for more details.
What's New in Gifted Education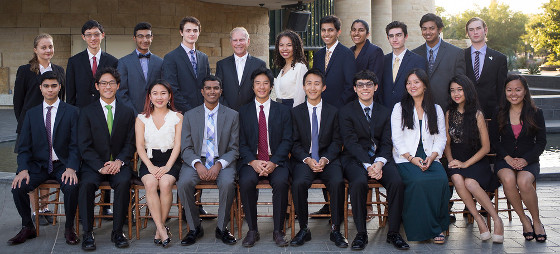 2017 Davidson Fellows Award Ceremony in Wash., D.C.
On Sept. 27, 20 young people were honored at the Davidson Fellows award ceremony for their work in science, technology, engineering, literature, music and the category of Outside the Box. Davidson Institute for Talent Development founder Bob Davidson presented the awards at the 17th annual ceremony held at the Smithsonian National Museum of the American Indian. In recognition of their remarkable achievements, each of the 2017 Davidson Fellows received a $50,000, $25,000 or $10,000 scholarship.

2018 Davidson Fellows Scholarship Application
The 2018 Davidson Fellows Scholarship application is now available online. Young people 18 and younger have the opportunity to earn a $50,000, $25,000 or $10,000 scholarship in recognition of a significant piece of work in the categories of science, technology, engineering, mathematics, music, literature and philosophy, or a project that represents outside the box thinking. The application deadline is Wed., Feb. 14, 2018.
Challenging Summer Options
Application season has begun for Epsilon Camp, a two-week summer residential camp serving promising young mathematicians and their families through an intensive student program and parent workshop. The mission of Epsilon is to connect precocious children (7-11) to professional mathematics and build a supportive community with peers and families. Epsilon Camp 2018 will be held from July 15-29, 2018.
Admission season has also begun for MathPath, a four-week summer residential camp whose mission is to inspire and advance the most mathematically gifted middle school age students (11-14).

Epsilon and MathPath, both founded by Dr. George R. Thomas, are independently run and differently organized enrichment camps where students advance in a non-competitive atmosphere.
Davidson News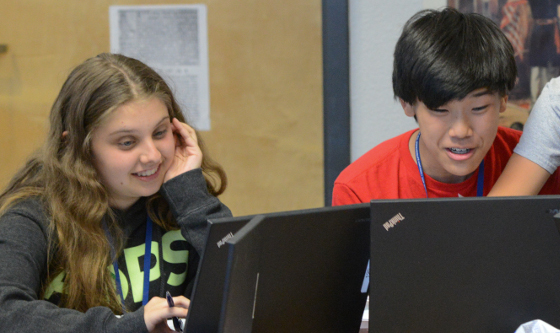 Davidson Academy - December Events & Applications
Dec. 4 Live, Online Open House - Register Today!
The Davidson Academy is hosting a live, online open house on Mon., Dec. 4 at 4 p.m. Pacific/7 p.m. Eastern for families who want to learn more about the Online High School option. Mark your calendar and complete the registration form on the Online High School page.

Dec. 8 On-Site Tour - RSVP Required
The Davidson Academy's last tour of the season for prospective students and their parents will be held Fri., Dec. 8 from 2 p.m. to 4 p.m. At these tours, Academy students, parents, faculty and staff answer questions and offer information about the school. RSVP (required) on the Tours page.

Academy Applications Open for 2018-2019, Reno and Online Campuses
The Davidson Academy offers two educational options specifically designed to meet the needs of profoundly gifted students – an online campus for those living anywhere in the U.S. and a Reno campus for local residents. Academy classes are grouped by ability rather than by age.

The Online High School starts with eighth-grade courses and the 2018-2019 application is now open. Visit the Online High School's Qualification Criteria and How to Apply pages for more information. The deadline to apply is Feb. 28, 2018. The Academy is offering 2018-2019 merit scholarships up to $3,500 and a voucher for Online High School applicants who live outside Nevada to cover the FAST fee. FAST is the program that computes applicants' personalized tuition amounts. Complete your application by Fri., Dec. 15 to qualify for the voucher. For details, visit the Online High School Tuition page. If you have any questions, please email online@davidsonacademy.unr.edu.

The Reno Day School is a middle and high school, located on the University of Nevada, Reno campus, for profoundly gifted students who are local residents. The 2018-2019 application for the Academy's Reno campus is open and the deadline to apply is Jan. 15, 2018. For details, visit the Reno school's How to Apply page. If you have any questions, please email applications@davidsonacademy.unr.edu.

Breaking News: Davidson Academy student Oliver Leitner, a violinist, will appear on From the Top, the hit NPR radio program featuring America's best young classical musicians, the week of Nov. 27. View his From the Top page.
Davidson Young Scholars
The Davidson Young Scholars program provides FREE services designed to nurture and support profoundly gifted young people and their families, including talent development, educational advocacy, an online community and the Ambassadors program. Young Scholars can also access annual get-togethers, a summer camp for 8 to 12 year olds and accredited, online middle school courses. Applications are due the first of each month. For more information, see the How to Apply and Qualification Criteria pages.
Legislative & Policy News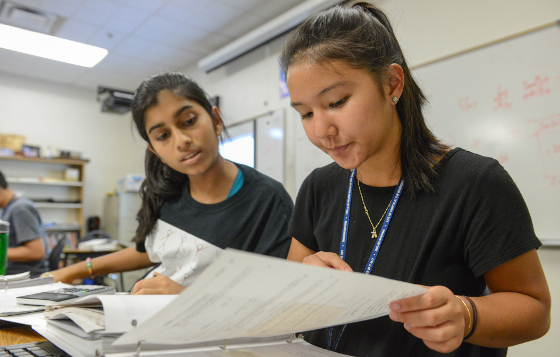 Javits Program to Provide Funding for Gifted Research
Led by Univerity of Connecticut educational psychology professors, two research projects have recently been awarded a total of nearly $5 million in federal funding, made available through the Jacob K. Javits Gifted and Talented Students Education Act (Javits).

Project LIFT is focused on students with high academic potential, particularly those from underserved populations. The research team will promote teachers' understanding of the behaviors that may indicate high potential in students and help offer students opportunities to demonstrate their potential.

Thinking Like Mathematicians: Challenging All Grade 3 Students emphasizes the importance of supporting gifted students from underrepresented groups. The project focuses on providing challenging curriculum in academically and culturally diverse schools and experiments with developmental identification strategies.

Sources: UConn Today, The Daily Campus
See below for additional 2017 Javits program funding projects in various states. For the full list, visit the Javits Awards page.


CALIFORNIA – California Lutheran University will receive a $125,348 federal grant as part of the Javits Act, to support underrepresented students at the K-12 and post-baccalaureate levels. Source: Ventura County Star

FLORIDA – The Pinellas County school district is providing $45,000 to screen all second-graders in every school for gifted education programs. Previously, placement into a gifted program would rely on a teacher's recommendation or a parent's initiative. Source: Tampa Bay Times

The Orange County school district will open a magnet school for gifted elementary students in grades 2 to 5 in fall 2018. The school will be open to children from across the county. Source: Orlando Sentinel

HAWAII – The University of Hawaii will receive a $2.5 million federal grant as part of the Javits program, to increase the number of underrepresented students identified as "mathematically promising." Source: University of Hawaii

MARYLAND – To increase the number of underrepresented students gaining access to gifted education programs, the State Department of Education will receive a $1.6 million federal grant as part of the Javits program. Source: Maryland State Department of Education

OKLAHOMA – The State Department of Education will receive a $2.3 million federal grant as part of the Javits program, to identify, serve and support gifted and talented students with disabilities and those from underrepresented populations. Source: The Ada News

WASHINGTON – Under a new state law, each school district in the state must submit a detailed plan to the Office of Superintendent of Public Instruction on how they will make it a priority to find low-income students who may be academically gifted but overlooked for accelerated classes. Source: Seattle Times

On the Web
Irene Vazquez, 2017 Davidson Fellow
Reaching Across Distances to Break Down Barriers
Irene Vazquez of Houston was awarded $25,000 for her Davidson Fellows project, "Ebb and Flow: Translating Lives and Transition."

What kind of impact can your Fellows project, "Ebb and Flow: Translating Lives and Transition" have on society?
In today's America, we cannot afford to live a life untranslated. The United States is becoming increasingly diverse and saturated with different perspectives. No longer can we sit in our separate neighborhoods, schools, and churches and say that we tolerate each other; if we are to thrive, we must take active steps to understand one another.

My project is a writing portfolio centered around the theme of translation. My work implores people to reach across distances, break down barriers of any kind — temporal, geographic, linguistic. Translation does not just apply to language; every time we explain a scientific concept, write something down, try to explain vast abstractions like love and grief, we are translating. In order to appreciate our stories, we must look at them like a foreigner would, strange, delicate, and full of possibility. Taking each word into our hands. Feeling its weight. Molding it, shaping it, until something beautiful and new is born.

What are some of your short-term and long-term plans?
I'm wrapping up my first semester at Yale University, where I'm a prospective Ethnicity, Race, and Migration major. I'd like to pursue the interdisciplinary study that the major provides, continuing to interrogate the intersections of ethnography and literature that characterized my portfolio. I'm involved in the literary scene here at Yale, where I'm a part of WORD: Spoken Word at Yale, the Yale Literary Magazine, and Broad Recognition, Yale's feminist publication.

During my time at Yale, I would like to finish my first full-length collection of poetry, tentatively titled Ex-Votos. This collection will explore iconography in the Mexican cultural imaginary and how it appears in everyday life.

After Yale, I would like to continue to write or pursue a career in politics or grassroots organizing.

Please describe your academic setting and some positive experiences with mentors.
This semester at Yale, I've been splitting my courses between fulfilling distributional requirements and pursuing courses within my prospective areas of study. In the Ethnicity, Race, and Migration Department, I've been taking a class called "Race, Empire, and Atlantic Modernities" which is co-taught by Professor Anne Eller (in the history department) and ER&M Director of Undergraduate Study Dixa Ramirez. In that class, we take an interdisciplinary look at the Caribbean and its role in the creation of modern structures. I've learned so much from my two professors about the work that they're doing in furthering the field of Caribbean studies.

I'm also taking a class called "Composing and Performing the One-Person Play" with Professor Hal Brooks. Professor Brooks has directed many one-person plays in the American theatre scene including "No Child" and "Thom Pain." I've learned a great deal about the different ways that the one-person play can be created and the role it plays in the expansion of our notions of the theatre.
"Radical acceleration . . . will reintroduce you to a learning environment where you have a higher likelihood of learning, you'll meet people from all different backgrounds and get a chance to improve your maturity by interacting with adults and professionals, and you might actually earn something more valuable than a high school diploma along the way."

-- Noel Jett, in The High Flyer op-ed, Speaking from experience: A radically accelerated gifted student
If you have information to include in a future newsletter, please contact us at admin@davidsongifted.org.

If you have been forwarded this eNews-Update, and wish to receive future editions, sign-up here.
Davidson Institute for Talent Development
Supporting our nation's brightest young minds
Reno, Nevada
DavidsonGifted.org
administrator@davidsongifted.org
      
To subscribe, visit the Davidson Institute's eNews-Update archive page.







Connect with us!