To receive future Davidson Academy Prospective Student eNewsletters, sign up here.

What's New in Gifted Education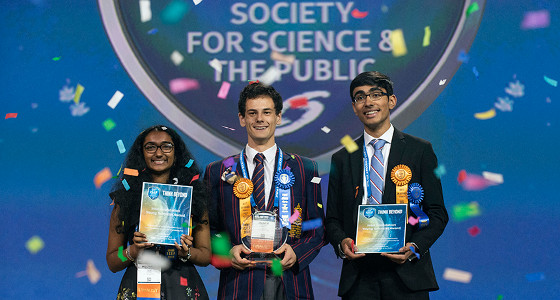 Scientific Innovation, Creativity on Display at Intel Science and Engineering Fair
Nearly 1,800 outstanding high school science students, representing more than 75 countries, exhibited their inventive, groundbreaking projects at the 2018 Intel International Science and Engineering Fair (ISEF) in Pittsburgh.

Oliver Nicholls of Australia (pictured, center) was awarded the top prize for for designing and building a robot that can wash skyscraper windows. Meghana Bollimpalli of Arkansas (left) and Dhruvik Parikh of Washington (right) each received the second prize: Meghana for synthesizing materials that could greatly cut the costs of making electrodes for devices like supercapacitors, and Dhruvik for developing less expensive, more robust ion exchange membranes for use in batteries for storing solar or wind-generated electricity. Source: Society for Science & the Public (SSP)
World Science Festival In Search of Gifted Mathematical Minds
The World Science Festival is now recruiting one-in-a-million mathematical minds looking to use their exceptional skills to change the world through the World Science Scholars online program. World Science Scholars can connect online and in-person with world-renowned scientists and thinkers.
Report Shows Lack of Support for Gifted Low-Income U.S. Students
Despite small signs of progress, low-income students with advanced academic abilities are far less likely than their peers to have access to resources that would help them succeed, according to the Jack Kent Cooke Foundation (JKCF) report, Equal Talents, Unequal Opportunities. Fourteen states received a grade of B- or better for their work supporting excellence. The report seeks to provide states clear guidance on how to ensure that all gifted students, including those from low-income backgrounds, are supported in order to develop their talents. Sources: Jack Kent Cooke Foundation, Johns Hopkins University
Davidson News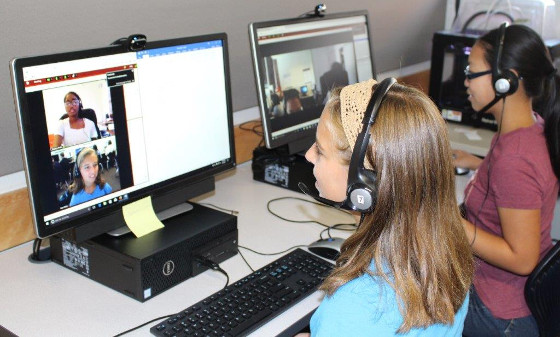 Davidson Academy
Online High School - A Stimulating Community Where Students Thrive
The Davidson Academy's Online High School is a game changer for profoundly gifted students. Open to students in eighth grade and above living anywhere in the United States, the accredited Online High School builds off the one-of-a-kind, exceptional framework put in place by the Davidson Academy Reno Day School. The result is a robust online community where students thrive. A Day in the Life of a Davidson Academy Online Student >

Online students benefit from:
Live, synchronous sessions
Quality peer interactions
Small class sizes
Responsive, caring instructors
Guidance counseling
College planning
Personalized Learning Plans
Opportunities for socialization
eLearning Inside News published a two-part series about the Davidson Academy's Online High School: The Online High School application will open this fall. If you have any questions, please email online@davidsonacademy.unr.edu.

Day School in Reno, Nevada - For middle and high school students
For more than a decade, the Davidson Academy's free, accredited public day school located on the University of Nevada, Reno campus has centered on interpersonal and instructional dynamics creating an atmosphere that is vibrant with intellectual energy and dialogue. As the school has grown, the Academy has evolved to offer an increasing amount of opportunities, while still providing a laser-sharp focus on the individual student. Davidson Academy students have the opportunity to participate in many clubs and extracurricular activities throughout the year, as well as enroll in courses at the University under a dual enrollment agreement.

Stay Updated
To keep up with the latest news, view the the Davidson Academy eNewsletter. Also, connect with the Davidson Academy on Facebook and Twitter!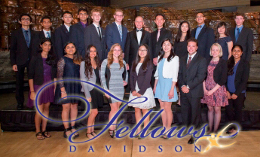 Davidson Fellows Scholarship
The Davidson Institute offers $10,000, $25,000 and $50,000 Davidson Fellows scholarships to students 18 and under whose projects have the potential to benefit society, and are at the college graduate level. Application categories are in the STEM fields, humanities and outside the box. The 2018 class of Davidson Fellows will be announced this August.
Davidson Young Scholars
The national Davidson Young Scholars program provides FREE services designed to nurture the intellectual, social, emotional, and academic development of profoundly intelligent young people between the ages of 5 and 18 (students must be between the ages of 5 and 16 when applying). Benefits of the program include:
Consulting Services
An Online Community
In-person Connections
Community Service Endeavors
Summer Programs (fee-based)
Read success stories to see how the Young Scholars program has helped make a difference in the lives of these students. The application deadline is the first of each month.
Legislative & Policy News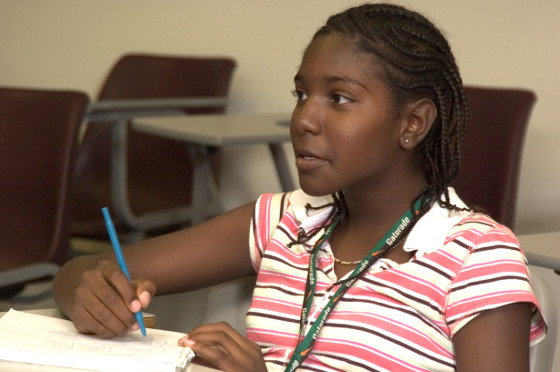 NATIONAL – While the Administration has proposed cutting funding for the Jacob K. Javits Gifted and Talented Students Education Program (Javits) in Fiscal Year 2019, Senators Grassley (IA) and Casey (PA) have penned a "Dear Colleague" letter in support of Javits to be sent to the Appropriations Committee. Source: NAGC

ALABAMA – The Alabama Legislature recently approved a bill to provide grants to public schools' programs for gifted students. Source: Decatur Daily

CONNECTICUT – Data reported to the U.S. Department of Education shows disparities among underrepresented group in the New Haven school district's Talented and Gifted program. Source: New Haven Register

The Norwalk school district recently unveiled a three-year redesign plan designed to lead to a more inclusive approach to identifying and serving gifted students. Source: The Hour

ILLINOIS – The advanced learning program for elementary students in the Riverside school district is about to be revamped and made more flexible, both in terms of who participates and in the way it's implemented. Source: Riverside Brookfield Landmark

INDIANA – The Carmel Clay school district will not change its high-ability program next school year, following concerns that a planned switch to cluster grouping would be "temporarily postponed." Source: Indianapolis Star

KENTUCKY – The Jefferson County school district has approved an educational equity plan to address achievement gaps between underrepresented groups and their peers. Source: WFPL

NEW YORK – The New York City Department of Education will expand its efforts to diversify its gifted programs. Starting next year, two more gifted programs will join 42 other schools that have already changed their admissions policies in an attempt to enroll a more diverse group of students. Source: Chalkbeat

TENNESSEE – Tennessee has partnered with the National Association for Gifted Children to pilot a new teacher professional-development credential aimed at training teachers to recognize giftedness in students from traditionally underrepresented groups. Source: Education Week

In the Spotlight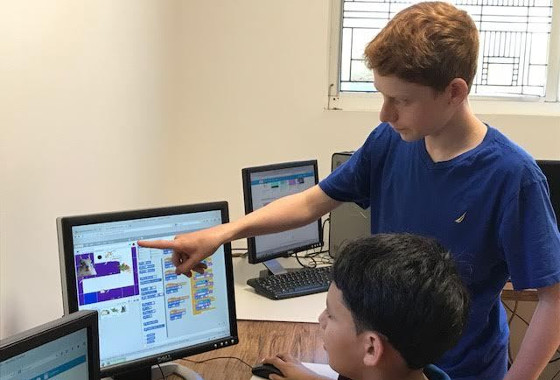 Noah Rubin, Davidson Ambassador ~ Sparking an Interest in Coding in All Young Children
The purpose of the Davidson Young Scholars Ambassador Program is to foster learning and civic engagement through community service, volunteerism and leadership in highly motivated and mature Young Scholars. Noah's project is "canCode."

Tell us a little about yourself.
My name is Noah Rubin, and I am a 9th Grader at the Claire and Emanuel G. Rosenblatt High School at Donna Klein Jewish Academy in Boca Raton, Florida. I have a passion for engineering, computer science, and community service. Last year I started canCode as a way to share my passion for computer programming.

What is canCode?
canCode is my community service project where I teach kids computer programming through an online software called Scratch. I harness kid's love for video games while teaching them new skills in computer programming. I am beginning to expand my project to include more relatable teenage teachers - impacting more elementary school children each year. I have partnered with a local youth center - The Youth Activity Center of Boca Raton, to teach underprivileged students, train teachers, as well as pilot new curricula.

Why did you decide to start canCode?
I started canCode when I saw the gap in most traditional elementary schools - no computer programming logic introduction or instruction. That's where canCode comes in! Through canCode workshops, I can share my passion and inspire kids!

Where do you see canCode in 1 year; 3 years?
I am committed to making sure canCode impacts kids across my community. I hope in 1 year, I will have gotten into more youth centers and libraries, impact more than 200 elementary school students, completed or plan a summer program, and deploy trained teens across my community to teach canCode workshops. Long-term, I look forward to spreading more throughout South Florida, having area-leaders, many more curricula and most importantly making larger and larger impacts every year.

How has the Davidson Young Scholars Ambassador Program helped you?
The Davidson Young Scholars Ambassador Program has helped me so much in the development of my goals for this project. They have helped me put my goals into words, and into an implementable plan that I am following to succeed my goals. They put me in touch with great people who run the seminars to help me with specific areas of my project such as fundraising and marketing. I can't wait to participate in more seminars throughout the program!
"When students from different backgrounds, perspectives and geographies come together and share their ideas, there is no limit to what they can achieve."

-- Rosalind Hudnell, Intel vice president and president of the Intel Foundation
If you have information to include in a future newsletter, please contact us at admin@davidsongifted.org.

If you have been forwarded this eNews-Update, and wish to receive future editions, sign-up here.
Davidson Institute for Talent Development
Supporting our nation's brightest young minds
Reno, Nevada
DavidsonGifted.org
administrator@davidsongifted.org
      
To subscribe, visit the Davidson Institute's eNews-Update archive page.







Connect with us!