To receive future Davidson Academy Prospective Student eNewsletters, sign up here.


September 2017
---
The 2018-2019 application for the Davidson Academy Reno day school is now available! The Davidson Academy offers two educational options specifically designed to meet the needs of profoundly gifted students – an online school for those living anywhere in the U.S. and a day school on the University of Nevada, Reno campus for local residents. See below for more details.
Student to Student

Prospective students,

Hi there! My name is Aiden Choi and I am a junior at the Davidson Academy, or for short, the "DA." I've been at the Academy since the 8th grade and I want to share with you how wonderful the school is.

The first time you enter the building, you'll see that the DA is a special place, unlike any other high school.
One thing is very clear. The school is here to help students who want to learn. You can see this quality in its specialized learning plan. Every year, during the first few weeks of the school year, the DA develops a personalized learning schedule for each student. This way, rather than being separated by grade, students are placed into classes based on their academic ability. One student may be taking a class for advanced math and another may be taking a class for advanced writing skills. More importantly, these classes are taught wonderfully.

The incredible teachers were one of the things that surprised me the most about the DA. They are always ready to help students learn in any way they can, whether that means answering their questions outside of class or providing positive feedback. They are kind, knowledgeable mentors, who take an interest in helping students learn their material. More importantly, they make the content interesting! I still remember a lab from my first year at the DA when I took physical science, and we built miniature catapults and had a launching competition to help learn about kinematics. I know that my experience at this school, especially with some pretty rigorous classes, just wouldn't have been the same without their guidance. After all, where else will you find a school with a math teacher who's willing to teach you an instrument during lunch or a Spanish teacher who'll hand you a lollipop for your birthday?

The classes are just one part of what makes the DA special. The DA offers students so many opportunities to partake in activities that interest them.

Last year I was a member of the Future Physicians club. We got together each week to learn something new about the body, like bone structure or different kinds of bacteria. We even went on a field trip to the university cadaver lab, where I got to hold real organs! If this isn't the kind of thing that interests you, there's no need to worry. There are plenty of other clubs as well. Academically oriented clubs, community service oriented clubs, and culture clubs are all in abundance. If you find that none of these interest you, there's still no need to worry! If you have an interest in something that you would like to share with other students, it's very easy to start your own club. In fact, a fellow student and I did just that freshman year. We wanted to create an opportunity for students to exercise and stay healthy together, so we started the DA running club, something we still lead today. Perhaps this doesn't interest you either. Perhaps you aren't even really interested in joining any clubs. That's perfectly fine! I guarantee that you'll be provided with another way to pursue an interest or passion at the DA.

You may also be interested in the DA Friday schedule. Fridays are elective days, meaning that you will have the opportunity to pick among a variety of interesting courses. We've had electives for free writing, theater, fitness, Kung fu, poetry, computer animation, journalism, and so many more! One of the electives I am currently participating in is the Student Council class. We prepare a variety of fun school events for kids to participate in, like dances, an annual lock-in, and other hullaballoos. My personal favorite is the lock-in, an event in which a bunch of students stay at the school overnight. Being in Student Council has been a great way for me to stay involved in the school. Another elective, DECA, taught me to prepare for business competitions. This class has helped me to develop problem-solving skills and even to communicate with local businesses, while also giving me the confidence to speak with new people. I'm also in the Speech and Debate class. This elective has provided me with public speaking skills and has taught me how to construct convincing arguments. Every elective teaches something of value. It's just a matter of looking for the right ones, or even starting your own!

I hope that through this column, I was able to convey a small sense of what makes the DA experience so special. I suppose that the message I've been trying to share is that this is a place that will provide you with endless opportunities to pursue your interests and to learn new things. So if you are a student who is interested in that kind of environment, please apply! I know you won't regret it, and perhaps I can look forward to seeing you here!

~ Aiden Choi, Davidson Academy student
2018-2019 Reno Day School Application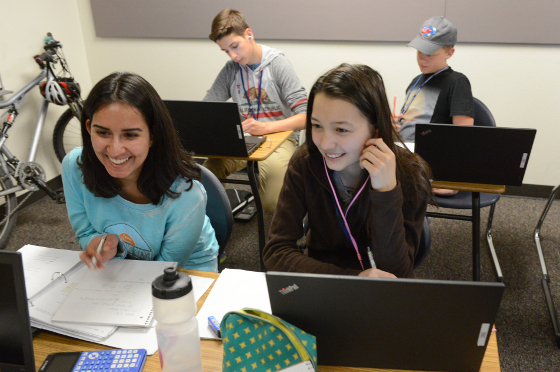 The 2018-2019 application for the Davidson Academy Reno day school is now available! Visit the How to Apply page to access the online application system. If you are looking for an environment to better fit your social and academic needs, the Davidson Academy may be the place for you!

At the Davidson Academy, our mission is to offer you advanced educational opportunities designed to specifically serve your needs, interests and goals. In addition, we provide:

A Personalized Learning Plan (PLP) that serves as a tool to guide us in meeting your unique needs;
A wide range of courses and learning options, including: choices of levels of study to pursue in each of your courses, university courses, and independent study and research opportunities;
The opportunity to build friendships, pursue extracurricular activities, contribute to the community and learn with intellectual peers;
Access to the intellectual, cultural, athletic resources on the University of Nevada, Reno campus, the Reno/Tahoe area and the beauty of the Sierra Mountains.
Please review the Qualification Criteria and How to Apply pages of our website for more information. The Academy is specifically designed to meet the needs of profoundly gifted middle and high school students who score in the 99.9th percentile on IQ or college entrance tests. On the Application Review Process page, you will find detailed information about the on-site assessment.
Fall Tour Dates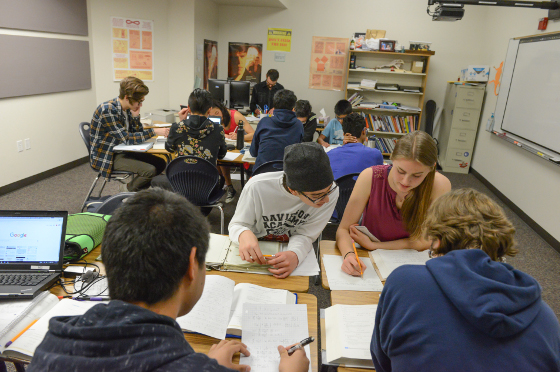 The Davidson Academy frequently hosts tours for prospective students and their parents. At these tours, prospective students and their parents meet current Academy students, parents, faculty and staff, and ask specific questions about the school. Upcoming school tours will be held from 2 p.m. to 4 p.m. on the following Fridays (RSVP Required):
Sept. 22, 2017
Oct. 20, 2017
Nov. 17, 2017
Dec. 8, 2017
For more information, please email outreach@davidsonacademy.unr.edu.
Online High School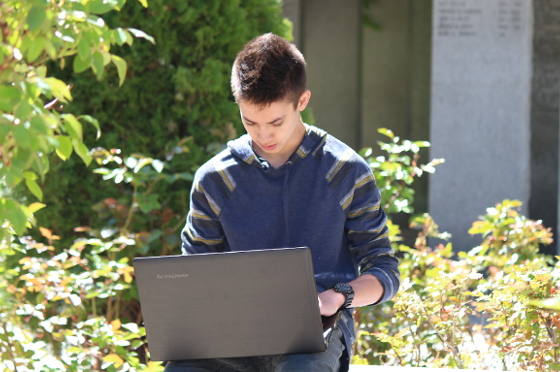 2018-2019 Online High School Application
Open to students in eighth grade and above living anywhere in the United States, the Online High School takes the best of a Davidson Academy education and builds a robust online community where students can thrive. This online, accredited option is designed to be different from traditional online education. Online students benefit from:

Live, synchronous sessions
Quality peer interactions
Small class sizes
Responsive, caring instructors
Guidance counseling
College planning
Personalized Learning Plans
The 2018-2019 Online High School application will open in October. Read the Online High School Qualification Criteria for eligibility information and visit the Online High School's web pages for additional details. If you have questions, please email online@davidsonacademy.unr.edu.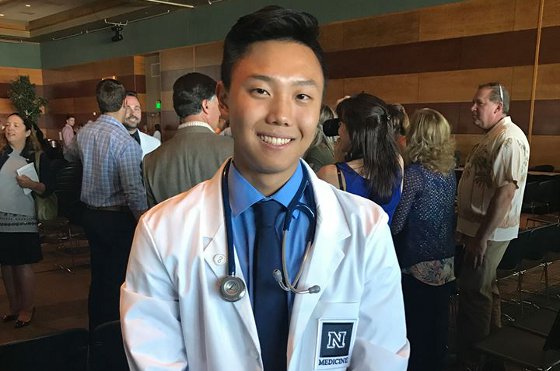 Congratulations to Davidson Academy alum Austin Shinagawa (20) for his entry into the University of Nevada, Reno School of Medicine! Austin started at the Academy in 2008 and graduated one year early in 2014. He entered the BS-MD Accelerated Program at the University of Nevada, Reno, earning his BS in Molecular, Microbiology, and Immunology (MMI) a few months ago.
" Being challenged is tough, but it's rewarding . . . The discussions I've had in classes have been some of my favorite learning experiences—they tend to be really organic, and even though they're motivated by a reading or topic, they tend to evolve a mind all of their own. This allows for simultaneous breadth and depth of material and a lot of critical thinking."

--Bridget Conway, Davidson Academy Graduate
If you have been forwarded this Davidson Academy Prospective Student eNewsletter, and wish to receive future newsletters, sign up here.

Davidson Academy
Reno, Nevada
www.DavidsonAcademy.UNR.edu
communications@davidsonacademy.unr.edu
      
For more prospective student information,
visit the Davidson Academy Tours page.

Davidson Academy eNewsletter Archive.







Connect with us!