To receive future Davidson Academy Prospective Student eNewsletters, sign up here.


October 2018


Both the Davidson Academy Reno and Davidson Academy Online 2019-2020 applications are now open!

Learn more about the Davidson Academy:

In-Person Regional Events about the Online Campus
Online Virtual Open Houses
Fall Tour Dates for Reno Day School
New Overview Video
See below for more details!
Student to Student


Hi everyone! My name is Nathan McAlister, and I am a senior in my fifth year here at the Academy. The time has flown by extremely quickly, but I have made some incredible friendships and lasting memories during my time here. I couldn't have asked for a better high school education or experience.
When I first came to DA, I was extremely nervous. I moved here from Bremerton, Washington, and I knew nobody. In the few months leading up to my first day, I kept worrying over whether I would fit in or not. All of those doubts vanished at orientation. The students, teachers, and staff were all extremely sociable and kind, and they even helped me figure out where my classes were. Needless to say, eighth grade me was absolutely thrilled about being able to come here, and I was determined to make the most of my experience.

Four years later, nothing has changed. The social environment here is very warm and accepting of different people and viewpoints, and it's collaborative instead of competitive. If a friend asks me how I did on an assignment, it's not because they want to know if they did better than me; it's because they care about my academic growth and want me to succeed.

Furthermore, the Academy provides the flexibility for students to succeed outside of school as well. While Davidson is generally an academically-focused environment, we still have fun. One of the events I remember most fondly was a Harry Potter-themed Spirit Week my first year. Every student chose a house to be "sorted" into; I chose Hufflepuff. The four houses competed with each other to see who could earn the most "spirit points" by the end of the week, and at the end of the week, the school hosted a Yule Ball. I didn't get to go because of scheduling conflicts on my part, but everyone I've talked to says that the dance was amazing in every way, from decorations to music choice.

If I could give any piece of advice to a new student reading this, I'd tell them to relax. Sure, school can be stressful, but a really important part of this school is the experience itself. While you could focus entirely on good grades, it's essential to explore interests and learn more about yourself in the process. For instance, when I came here, I knew I really liked math; however, I also discovered a passion for physics and computer science during my time here. Some advice I wish I had heard when I first came here is to not be afraid to fall back on the resources provided here. Our counselors here are an extremely useful resource; they're experienced and have your best interest in mind. As a senior, I've been stressed out a lot by college applications this year, but my counselor has helped reassure me and let me know that everything's going to work out. She even sat down and devised an entire schedule with me on when I should work on each of my applications!

In short, my experience here at Davidson has been amazing, and some of the memories I've made here are priceless. If you have the opportunity to attend, I would highly recommend doing so; I wouldn't trade this experience for the entire world.

~ Nathan McAlister, Davidson Academy student
Online Campus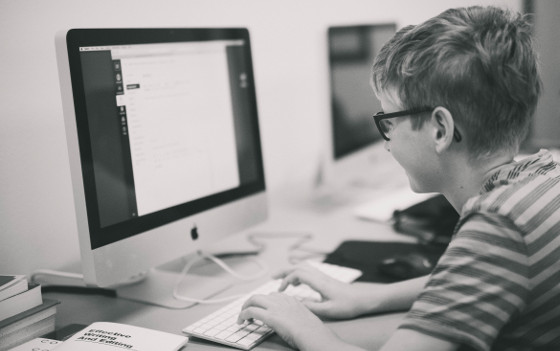 Online Campus - A Vibrant Community Where Students Thrive
2019-2020 Application Available
The 2019-2020 application for the Davidson Academy online campus is now available! Visit the Qualification Criteria and How to Apply pages to read about the application process. The deadline to apply for the online campus is March 31, 2019.

Open to students who live anywhere in the United States, this accredited online option builds off the one-of-a-kind, exceptional framework put in place by the Davidson Academy's Reno day school. The result is a robust online community where students thrive. Learn about the benefits of online learning for gifted students and how the Davidson Academy Online is working to meet their needs.

The online campus was featured in the e-Learn Magazine article, At Davidson Academy, Gifted Students Thrive with Online Learning.

If you have any questions, please email online@davidsonacademy.unr.edu.


In-Person Regional Events **Just announced**
Davidson Academy Online In-Person Regional Events offer an opportunity to hear more about Davidson Academy's online campus. The events will include presentations on admissions, curriculum, technology, and our vision. Attendees will have the opportunity to ask questions throughout. Questions that are global in nature will be answered during the open house; questions which are more personal in nature may be answered afterwards. Space is limited for each so please select the one that works best for your schedule. The following event dates and locations have been announced:
Wed., Oct. 24, 2 p.m. ET at Buffalo Wild Wings Atlantic Terminal Mall, 139 Flatbush Ave, Brooklyn, NY 11217
Thurs., Oct. 25, noon ET at Buffalo Wild Wings Times Square 253 W 47th St, New York, NY 10036
Fri., Oct. 26, 4 p.m. ET at East Granby Library 24 Center St, East Granby, CT 06026
Fri., Oct. 26, 4 p.m. ET at Regus 12 Penns Trail Newtown, PA 18940
Sat., Nov. 18, 2:30 p.m. ET at Panera Bread 5090 Tiedeman Rd., Brooklyn, OH 44144
Mon., Nov. 19, 6 p.m. ET at Panera Bread 300 W Lane Ave, Columbus, OH 43201
Mark your calendar and register here: http://bit.ly/daoopenhouse1819.

Davidson Academy Online Virtual Open Houses
Join us to learn more about this exciting online learning option on the following dates: Mon., Oct. 22, 5 p.m. PT; Tues., Nov. 27, 6 p.m. PT; Mon., Dec. 10, 4 p.m. PT; Thurs., Jan. 24, 5 p.m. PT; Tues., Feb. 19, 6 p.m. PT; and, Wed. Mar. 13, 4 p.m. PT. RSVP here: http://bit.ly/daoopenhouse1819

Reno Campus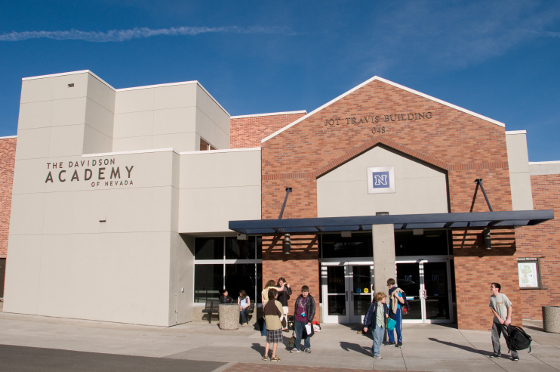 Day School in Reno, Nevada - For middle and high school students
The 2019-2020 application for the Davidson Academy Reno day school is now available! Visit the Qualification Criteria and How to Apply pages to read about the application process. The deadline to apply for the Reno campus is Jan. 30, 2019.

The Academy is specifically designed to meet the needs of profoundly gifted middle and high school students who score in the 99.9th percentile on IQ or college entrance tests.

If you are looking for an environment to better fit your social and academic needs, the Davidson Academy may be the place for you! At the Davidson Academy, our mission is to offer you advanced educational opportunities designed to specifically serve your needs, interests and goals. In addition, we provide:

A Personalized Learning Plan (PLP) that serves as a tool to guide us in meeting your unique needs;
A wide range of courses and learning options, including: choices of levels of study to pursue in each of your courses, university courses, and independent study and research opportunities;
The opportunity to build friendships, pursue extracurricular activities, contribute to the community and learn with intellectual peers;
Access to the intellectual, cultural, athletic resources on the University of Nevada, Reno campus, the Reno/Tahoe area and the beauty of the Sierra Mountains.
Fall Tour Dates
The Davidson Academy hosts fall tours for prospective students and their parents. At these tours, prospective students and their parents meet current Academy students, parents, faculty and staff, and ask specific questions about the school. Upcoming school tours will be held from 2 p.m. to 4 p.m. on the following Fridays (RSVP Required):
Nov. 16, 2018
Dec. 7, 2018
For more information, please email outreach@davidsonacademy.unr.edu.
New Overview Video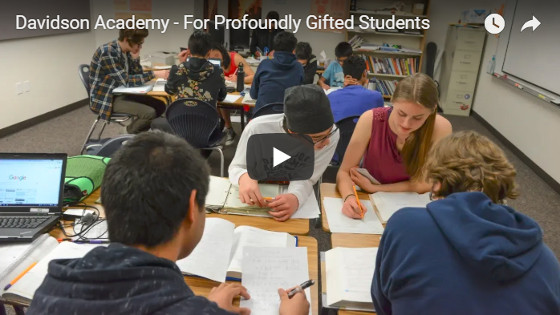 The new Davidson Academy Overview Video was recently released! Learn what makes the Academy unique from firsthand accounts of those who know the school best: students, parents, governing board members, instructors and staff. Hear about the school's curriculum, social atmosphere and more.
"Schooling is full of partially-opened doors. The Davidson Academy happens to have a lot more doors than most places. If you decide to attend the Academy, please don't hesitate to start opening as many doors as possible. It will really give you a chance like nowhere else to figure out how you as a person fits into the world, and what you can do with the fantastic opportunities that the Davidson Academy provides you."

--Isabella Noonen, Davidson Academy Graduate
If you have been forwarded this Davidson Academy Prospective Student eNewsletter, and wish to receive future newsletters, sign up here.

Davidson Academy
Reno, Nevada
www.DavidsonAcademy.UNR.edu
communications@davidsonacademy.unr.edu
      
For more prospective student information,
visit the Davidson Academy Tours page.

Davidson Academy eNewsletter Archive.






Connect with us!