To receive future Davidson Academy Prospective Student eNewsletters, sign up here.


June 2019


The Davidson Academy has recently received recognition for the following accolades:
Ranked as the top school for average ACT scores in the entire U.S.
Selected as a Blackboard Catalyst Award winner in the "Teaching & Learning" category
Recognized as one of the top schools for high achievers in the U.S. by the Washington Post's Jay Mathews
Read more below!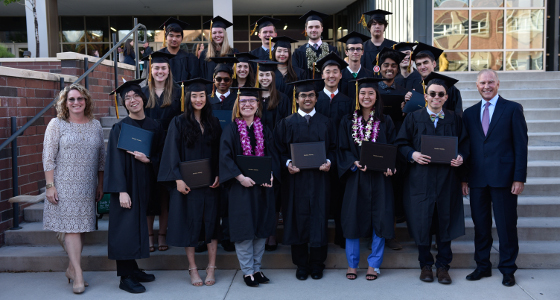 2019 Graduates
Congratulations, Class of 2019! The Davidson Academy's graduating class of 2019, and their post-secondary plans, are:
Alexander Alvarado - University of Texas at Dallas
John Artley - University of Tennessee, Knoxville
Nathan Bergrin - Rice University
Yatin Chandar - Massachusetts Institute of Technology
Aiden Choi - Stanford University
Morgan Heath-Powers – Gap year, followed by Southern Methodist University
Jenny Jiang - University of California, Berkeley
David Johnson - University of Illinois at Urbana-Champaign
Erin Leary - Macalester College
Matthew Lynch - University of Maryland, College Park
Nathan McAlister - California Institute of Technology
Emily McAmis - Rice University Nikesh Mishra - Stanford University Rhiannon Moore - Oxford College at Emory University
Anastasia Porter - Harvey Mudd College
Mikaela Prestowitz – Gap year, followed by Swarthmore College
Sidney Taylor - Harvey Mudd College
Justin Thein - University of California, Berkeley
Elizabeth Tittiger - University of British Columbia
Evan Tone - Neumont College of Computer Science
Scott Wade - Boston University
James Warmke - Georgia Institute of Technology
Vivek Yanamadula - Columbia University
The Davidson Academy faculty and staff are very proud of these graduates and wish each of them the best in their future endeavors. They have made great contributions to the Academy during their time here and will be missed! Read the press release.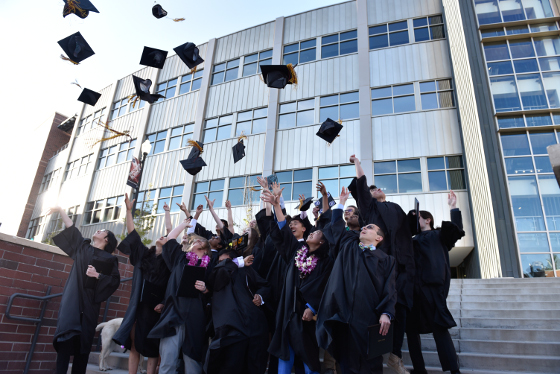 Online Campus
A Vibrant Community Where Students Thrive
What sets the Davidson Academy online campus apart from other online schools for gifted students? Our mission to provide profoundly gifted young people an advanced educational opportunity matched to their abilities, strengths and interests. Nowhere else will profoundly gifted students find a school that is intentionally designed for them.

Beyond the advanced academics that we offer, the hallmark of Davidson Academy Online is the authentic opportunities for meaningful interactions with classmates and instructors that happen daily.
Open to students performing at the seventh grade level and above who live anywhere in the United States, this accredited school builds off the one-of-a-kind, exceptional framework put in place by the Davidson Academy Reno day school. The result is a robust online community where students thrive.

At Davidson Academy Online, our courses and extracurriculars are conduits to support students with their social and emotional development.
Online students benefit from:
Live, synchronous sessions
Quality peer interactions
Small class sizes
Responsive, caring instructors
Guidance counseling
College planning
Personalized Learning Plans
Opportunities for socialization
Single-Course Enrollments

Single-course enrollments are now available through the Davidson Academy's online campus! With two English and two math courses for single-course enrollment beginning Fall 2019, single-course enrollments will have the same curriculum and workload expectations as the full-time Davidson Academy Online campus. Courses follow the academic school year calendar.

Please view the Single-Course Enrollments page and our infographic. To learn more or apply visit How to Apply > or email online@davidsongifted.org if you have any questions.
Reno Campus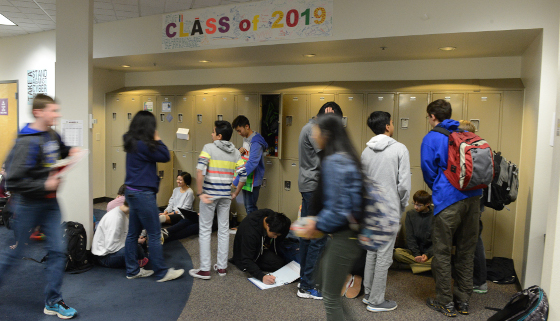 Day School in Reno, Nevada - For middle and high school students
For more than 13 years, the Davidson Academy's free, accredited public day school located on the University of Nevada, Reno campus has centered on interpersonal and instructional dynamics creating an atmosphere that is vibrant with intellectual energy and dialogue. As the school has grown, the Academy has evolved to offer an increasing amount of opportunities, while still providing a laser-sharp focus on the individual student. Davidson Academy students have the opportunity to participate in many clubs and extracurricular activities throughout the year, as well as enroll in courses at the University under a dual enrollment agreement.

If you are interested in applying to the Academy for the 2020-2021 school year, the application will be posted this August. If you have any questions, please email applications@davidsonacademy.unr.edu.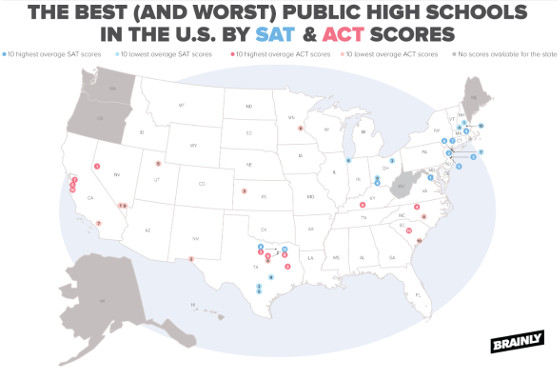 The Davidson Academy has been ranked by Brainly.com as the top school for average ACT scores in the entire United States! Brainly, the world's largest peer-to-peer learning community, analyzed data from state governments to create a ranking of the top ten best public high schools in the U.S. by test scores.

The brainly.com high school rankings are based on the average composite scores for the ACTs, an exam that has the highest possible score of 36 and tests for English, math, reading and science.

Access the Davidson Academy's School Profile, which includes the average test scores for each graduating class.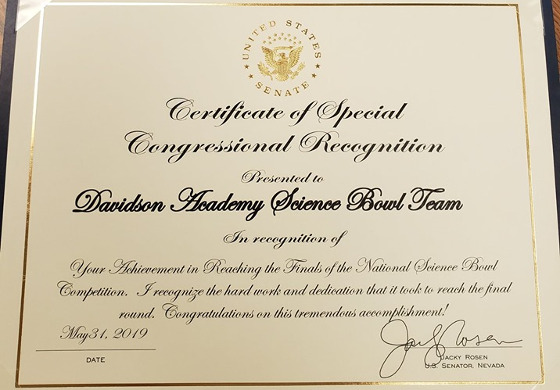 U.S. Senator Jacky Rosen recently recognized the Davidson Academy Science Bowl Team!
~ "In recognition of your achievement in reaching the finals of the National Science Bowl Competition. I recognize the hard work and dedication that it took to reach the final round. Congratulations on this tremendous accomplishment!"

For the second consecutive year, the Davidson Academy Online team has been selected as a Blackboard Catalyst Award winner in the "Teaching & Learning" category!
The Academy again joins a select group of people from around the world whose participation has been recognized as a significant and exemplary contribution to the Blackboard Community.

Founded in 2005, the annual Catalyst Awards recognize and honor innovation and excellence in the Blackboard global community of practice.

Read more: At Davidson Academy, Gifted Students Thrive with Online Learning

The Davidson Academy was named to the "Public Elites List" by the Washington Post's Jay Mathews! These 27 schools from across America were excluded from the main Jay Mathews Challenge Index list of the best high schools in America because, "despite their exceptional quality, their admission rules and standardized test scores indicate they have few or no average students".

The Challenge Index is the oldest high school ranking system in the country, beginning in 1998 in both Newsweek and The Washington Post.

Congratulations to the Davidson Academy's team (DA Daredevils), who finished first in Nevada and 22nd overall in the Girls Go Cyberstart Program! Participants individually receive a $100 prize. Read more >
Overview Video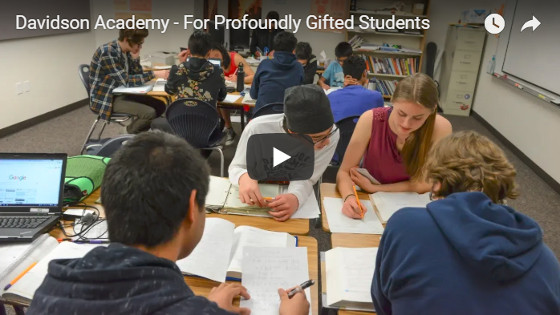 In the Davidson Academy Overview Video, learn what makes us unique! Hear firsthand accounts of those who know the school best: students, parents, governing board members, instructors and staff. Discover the school's curriculum, social atmosphere and more.

See also:
"I was absolutely thrilled about being able to come to the Academy, and I was determined to make the most of my experience . . . The social environment here is very warm and accepting of different people and viewpoints, and it's collaborative instead of competitive. If a friend asks me how I did on an assignment, it's not because they want to know if they did better than me; it's because they care about my academic growth and want me to succeed."

--Nathan McAlister, Davidson Academy student
If you have been forwarded this Davidson Academy Prospective Student eNewsletter, and wish to receive future newsletters, sign up here.

Davidson Academy
Reno, Nevada
www.DavidsonAcademy.UNR.edu
communications@davidsonacademy.unr.edu
      
For more prospective student information,
visit the Davidson Academy Tours page.

Davidson Academy eNewsletter Archive.






Connect with us!