To receive future Davidson Academy Prospective Student eNewsletters, sign up here.


June 2018

---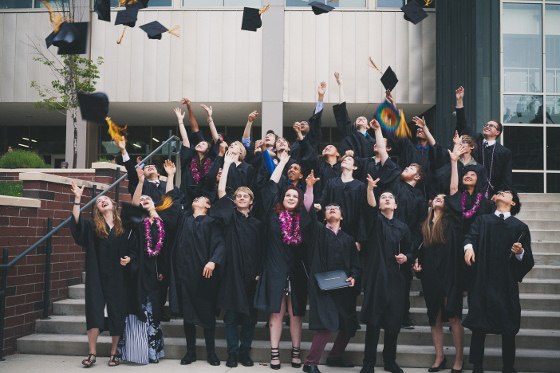 2018 Graduates
Congratulations, Class of 2018! The Davidson Academy's graduating class of 2018, and their post-secondary plans, are:
Gabriel Angres - University of California, San Diego
David Bauer - Stanford University
Matthew Bauer - California Institute of Technology
Lauren Brilliant - University of Nevada, Reno School of Medicine BS-MD Program
Ryan Brown - University of Nevada, Reno
Melinda Harkness - University of California, Santa Barbara
Ian Hong - Stanford University
Zachery Johnson - University of Nevada, Reno
Christoph Kemmelmeier - University of Nevada, Reno
Brian King - University of California, Los Angeles
Oliver Leitner - Yale University
Ethan Lu - Carnegie Mellon University
Sarah MacHarg - Gap Year, followed by Stanford University
Siddhardha Maligireddy - The University of Texas at Dallas
Sarah Mann - Pitzer College
Pranit Nanda - Massachusetts Institute of Technology
Isabella Noonen - The Dual BA Program between Trinity College Dublin and Columbia University
Timothy Novak - Olin College of Engineering
Nikolai Oh - University of California, Berkeley
Roshan Panda - University of Nevada, Reno School of Medicine BS-MD Program
Aman Patel - Gap Year, followed by University of Southern California
Cory Rix – Barrett, The Honors College at Arizona State University
David Serate - Champlain College
Courtney Shinagawa - University of Idaho
Maxwell Slater - Carnegie Mellon University
Tayla Travella - University of Idaho
Justin Zeising - University of Colorado Boulder
Congratulations to three Academy graduates, Oliver L., Sarah MH. and Max S., who received National Merit's $2500 Scholarship Award in recognition of their academic promise and distinguished performance. The scholarship may be used at the school of their choice. They were featured in the Reno Gazette-Journal.

The Davidson Academy faculty and staff are very proud of these graduates and wish each of them the best in their future endeavors. They have made great contributions to the Academy during their time here and will be missed! Read the press release.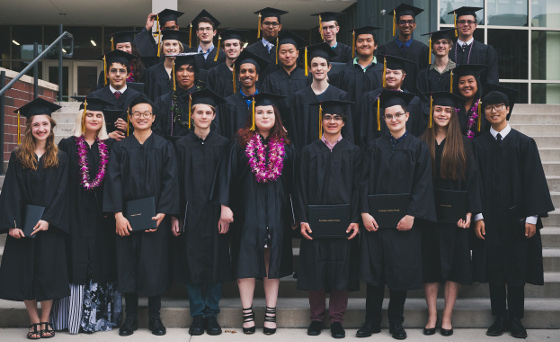 Online Campus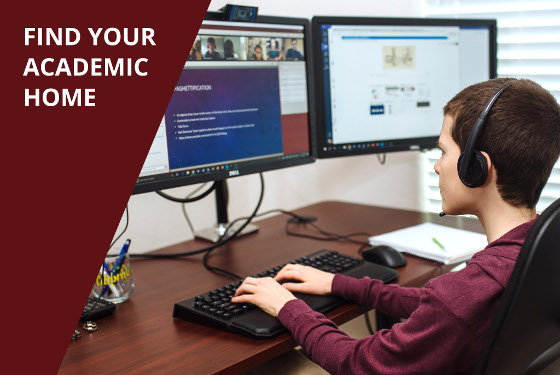 Davidson Academy
Online Campus - A Stimulating Community Where Students Thrive
The Davidson Academy's online campus is a game changer for profoundly gifted students. Open to students performing at the eighth grade level and above who live anywhere in the United States, this accredited school builds off the one-of-a-kind, exceptional framework put in place by the Davidson Academy Reno day school. The result is a robust online community where students thrive. A Day in the Life of a Davidson Academy Online Student >

Online students benefit from:
Live, synchronous sessions
Quality peer interactions
Small class sizes
Responsive, caring instructors
Guidance counseling
College planning
Personalized Learning Plans
Opportunities for socialization
The Davidson Academy's online instructors build their virtual "teacher presence" in order for students to feel connected to them, as if they were in the same physical classroom. When asked what methods they use to accomplish this goal, they shared a variety of approaches.

If you have any questions, please email online@davidsonacademy.unr.edu.
Reno Campus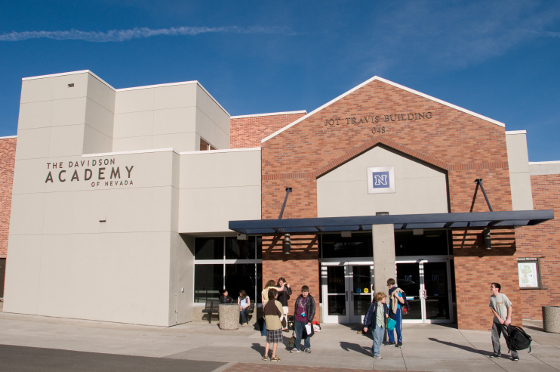 Day School in Reno, Nevada - For middle and high school students
For more than a decade, the Davidson Academy's free, accredited public day school located on the University of Nevada, Reno campus has centered on interpersonal and instructional dynamics creating an atmosphere that is vibrant with intellectual energy and dialogue. As the school has grown, the Academy has evolved to offer an increasing amount of opportunities, while still providing a laser-sharp focus on the individual student. Davidson Academy students have the opportunity to participate in many clubs and extracurricular activities throughout the year, as well as enroll in courses at the University under a dual enrollment agreement.

If you are interested in applying to the Academy for the 2019-2020 school year, the application will be posted this August. If you have any questions, please email applications@davidsonacademy.unr.edu.
Davidson Academy Online's Stacy Hawthorne and Jessica Potts have been selected as 2018 Blackboard Catalyst Award winners in the "Teaching & Learning" category!
Founded in 2005, the annual Catalyst Awards recognize and honor innovation and excellence in the Blackboard global community of practice.


eLearning Inside News recently published a two-part series about Davidson Academy Online: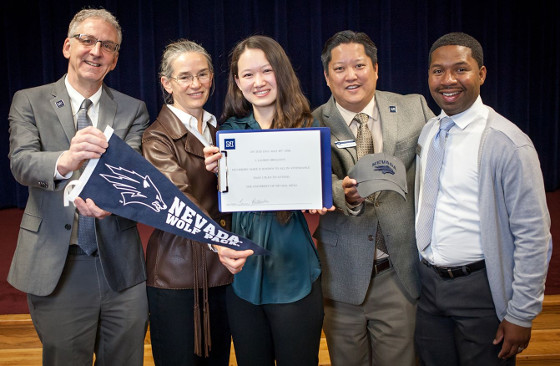 A signing ceremony was held in May to celebrate Davidson Academy graduate Lauren Brilliant, who is also a National Merit Finalist and will be attending the University of Nevada, Reno next year.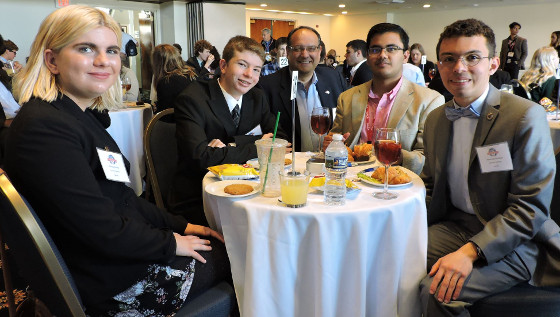 The Academy's Academic WorldQuest team finished in fifth at the national competition in Washington, D.C., the highest any team from Nevada has ever placed! The team's accomplishments were featured in Nevada Today.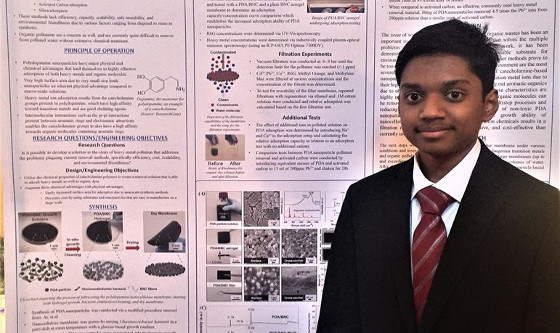 Academy student Yatin C. finished in second place in the Environmental Science category at the Intel Science and Engineering Fair (ISEF) for his project, Development of a Highly Efficient Low-Cost Filter for Effective Dissolved Heavy-Metal and Organic Contaminant Removal.
Yearbook is offered as an elective at the Davidson Academy. Pictured above are students hard at work on their advertising campaign. This year's book was themed "Grow".
Other Activities and Accomplishments
One student from the Davidson Academy's online campus and two from the Reno campus recently participated in the 2018 Raytheon MATHCOUNTS National Competition in Washington, D.C.

Academy student David S. has been selected to represent Nevada at the 2018 National Youth Science Camp (NYSC).

Academy student Pranit N. recently advanced to the final round of the 2018 U.S. Presidential Scholars competition.

The following Academy students recently participated in DECA Inc.'s International competition (ICDC) in Atlanta, receiving the following awards: Claire B., 2nd Place Overall, Principles of Finance (Top 10 Overall Finalist); Morgan H., Entrepreneurship Series (Top 10 Overall Finalist); Emma D., Principles of Marketing (Top 20 Overall); Rex B., Automotive Services Marketing Series; and Roshan P., Business Finance Series.

Academy student Yatin C. has been named the State of Nevada Stockholm Jr. Water Prize winner! Yatin has been invited to travel to North Carolina for the national competition.

Academy students Saran MH. & Tim N. were accepted to the National Security Language Initiative for Youth (NSLI-Y) Chinese (Mandarin) Academic Year Program for 2018-19. The program offers intensive in-class language instruction, host family stays and diverse opportunities to practice language skills.

Nevada Governor Brian Sandoval sent Certificates of Recognition to the following Academy students who received a National Medal in the 2018 Scholastic Art & Writing Awards: Wendy T., Mikaela P., Darsh P., Anabelle C. and Ellie H.

Three Academy students, Yatin C., Sidney T. & Vivek Y., were among five Harvard Prize Book honorees recognized at a ceremony sponsored by the Harvard Club of Northern Nevada. These high school juniors are recognized as outstanding students who display "excellence in scholarship and high character, combined with achievements in other fields."

"This is a place that will provide you with endless opportunities to pursue your interests and to learn new things. So if you are a student who is interested in that kind of environment, please apply! I know you won't regret it, and perhaps I can look forward to seeing you here!"

--Aiden Choi, Davidson Academy Graduate
If you have been forwarded this Davidson Academy Prospective Student eNewsletter, and wish to receive future newsletters, sign up here.

Davidson Academy
Reno, Nevada
www.DavidsonAcademy.UNR.edu
communications@davidsonacademy.unr.edu
      
For more prospective student information,
visit the Davidson Academy Tours page.

Davidson Academy eNewsletter Archive.






Connect with us!