To receive future Davidson Academy Prospective Student eNewsletters, sign up here.


February 2018



---
Online High School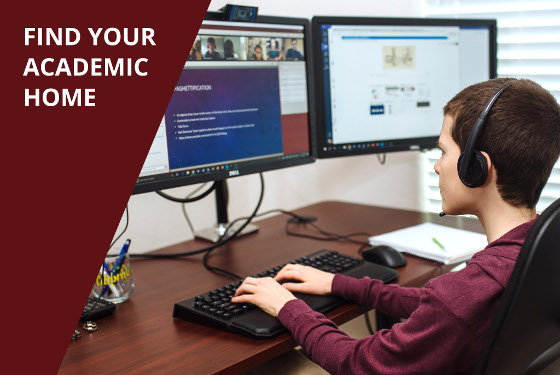 A Stimulating Online Community Where Students Can Thrive
The Davidson Academy's Online High School is a game changer for profoundly gifted students. Open to students in eighth grade and above living anywhere in the United States, the accredited Online High School builds off the one-of-a-kind, exceptional framework put in place by the Davidson Academy in Reno. The result is a robust online community where students thrive. A Day in the Life of a Davidson Academy Online Student >

The Davidson Academy Online High School application for 2018-2019 has been extended until March 30, 2018! The Online High School is for profoundly gifted students in eighth grade and above living anywhere in the U.S. This accredited option is designed to be different from a traditional online education. Online students benefit from:
Live, synchronous sessions
Quality peer interactions
Small class sizes
Responsive, caring instructors
Guidance counseling
College planning
Personalized Learning Plans
Embedded opportunities for socialization
Student to Student


Hello Prospective Students! My name is Isabella and I started at the Davidson Academy in 2013, heading into the eighth grade. It's hard to believe that, in under six months, I'll be moving on to college. My past five years at the Academy have gone by unbelievably fast. It won't seem like it from the get go, but I'm sure that next year's incoming eighth graders — or sixth graders or seventh graders or high schoolers — will feel their last year at the Academy approaching startlingly rapidly as well. If you chose to apply to — and possibly attend! — the Davidson Academy, I hope that — like me — you end up looking back at your high school experience a happier person for it.
Let me take a moment to say something that is probably cliched: You go into high school almost expecting it to be the way high school is portrayed in fiction. And in most ways, it isn't — real life is a whole lot more complicated. But you really do discover something about yourself during high school. You might make friends you never would have expected to get along with. You may join a club and discover your new favorite hobby. And you end up taking a class that changes your outlook on a subject. The overall goal of high school is to learn enough about how the world functions to make your way through it on your own. But a byproduct of learning this is figuring out a bit about where you fit into the world. And between all of the various opportunities the Davidson Academy provides to learn about the world in so many ways, I think attending this unique school has let me become the type of person I want to be better than anywhere else could have.

I'll give you an example. When I started at the Academy, I thought that I would go into a STEM field such as astronomy. However, it was my Davidson Academy classes that prompted me to better appreciate the humanities. Classics had characters and themes I could, with the right frame of mind, apply to the books I wanted to read. I didn't have to take philosophical concepts at face value; I could question and elaborate upon and argue against the writings of famous philosophers until I reached a greater understanding of how I thought the world works. And I could place aside the importance of memorizing historical names and dates by rote in favor of learning about the social conditions that led to those names and dates, as well as the social conditions that still affect the world today. I know a lot of STEM students who have come away from humanities classes at the Academy with a better appreciation of how those fields impact their work. As for me, I still love astronomy, but I'm planning on happily studying International Relations in college.

Here's another story. I knew from shadowing at the Davidson Academy during seventh grade that there existed in the school dozens of clubs and organizations, on every subject, on each day of the week, that I could join — moreover, if a club I wanted to join didn't yet exist, I was welcome to start it. But I didn't fully take advantage of this opportunity for my first couple of years at the Academy. I was reticent to join clubs, worried about the possibility that I'd make a commitment I didn't want to keep. But at the beginning of my sophomore year, me and a few other students who had become interested in history and politics began to discuss the idea of founding a club devoted to those topics. There wasn't yet a club at the Academy devoted to Model United Nations, the WorldQuest trivia competition, or simply talking about political issues, but all it took was setting a meeting time and filling out a few forms and our new "World Affairs Club" was born. I've been in several other clubs besides that, from DECA to Science Olympiad to Creative Writing Club. And with World Affairs Club currently in its third year, and having served as President since its founding, I can confirm that it really is possible to make something at the Academy that lasts.

And here's one final message. I could mention any number of other wonderful things that attending the Davidson Academy for these past five years has let me do. The classes we can take at the University of Nevada, Reno, when we exhaust a subject at the Academy. The internship I've been able to secure on campus, working for an organization devoted to improving America's international relations. The array of opportunities that exist to get involved in so many ways throughout Reno. All the wonderful friends I've been able to make by participating in all of these different opportunities. But I think the most important thing is this — schooling is full of partially-opened doors. The Davidson Academy happens to have a lot more doors than most places. If you decide to attend the Academy, please don't hesitate to start opening as many doors as possible. It will really give you a chance like nowhere else to figure out how you as a person fits into the world, and what you can do with the fantastic opportunities that the Davidson Academy provides you.

~ Isabella Noonen, Davidson Academy student
Reno Campus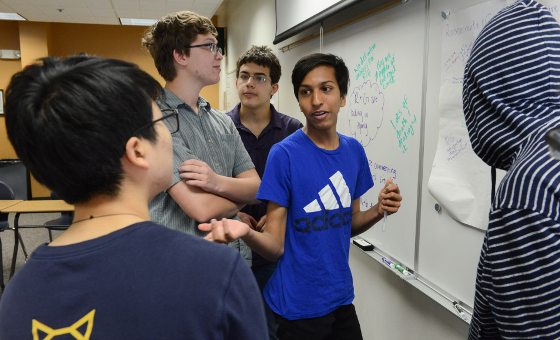 While the deadline to submit applications for the 2018-2019 school year has passed, it's not too early to think about 2019-2020. A free public day school for profoundly gifted middle and high school students located on the University of Nevada, Reno campus, the Davidson Academy provides an environment designed to fit your social and academic needs. If you are interested in applying to the Academy for the 2019-2020 school year, the application will be posted this August. Please review the Reno Campus Qualification Criteria and Reno Campus How to Apply pages of our website for more information.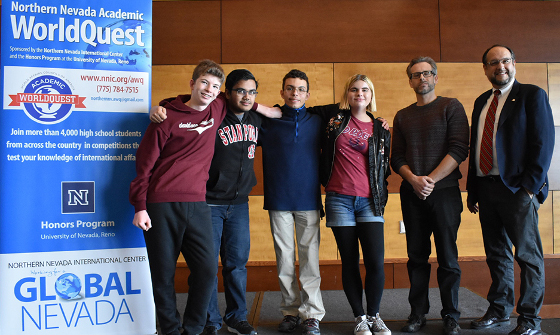 Congrats to the Davidson Academy team who won the Academic WorldQuest competition! Academy students Jason Scharoun, Nikesh Mishra, Alexander Alvarado and Bella Noonen are pictured from left to right. Source: Nevada Today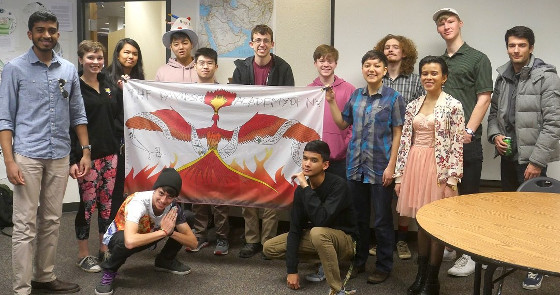 A number of Davidson Academy students planned a mini-reunion event in January for juniors, seniors and alumni. It was great to catch up with some old friends!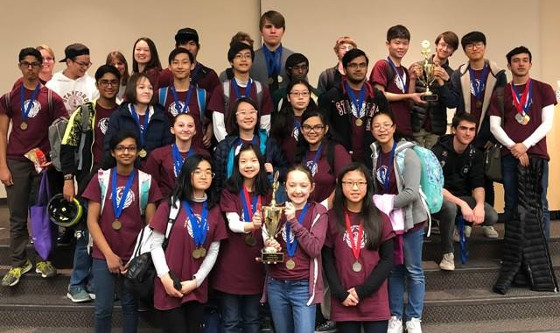 Congratulations to the Davidson Academy Science Olympiad Middle School and High School Teams for finishing in first place in the Northern Nevada 2018 Regional Competition hosted by the University of Nevada, Reno College of Engineering!


Other Activities
Sixteen Davidson Academy students are 2018 National Merit Finalists to be considered for scholarships - congratulations to Gabriel, David, Matthew, Lauren, Mindy, Ian, Oliver, Ethan, Sarah, Pranit, Bella, Nikolai, Aman, Courtney, Maxwell and Tayla!

The Davidson Academy MATHCOUNTS team finished in first place at the Northern Nevada Chapter Competition! All students qualified to go to the state competition in March! In addition, the top seven students were all from the Academy - congratulations to Vish, Sophie, Arvind, Megan, Carver, Nikita, Claire, Rahul, Archit and Annabelle!

In November, some Academy students participated in the AMC 8 math exam through the Mathematical Association of America. Please congratulate them on their achievement! Vishwath (perfect score), Sophie, Megan and Claire finished in the top one percent in the nation; Darsh, Arvind and Carver finished in the top five percent.

Candidates for the 2018 U.S. Presidential Scholars Program have been announced. There are 13 total from the Davidson Academy - one of last year's grads and 12 from the Class of 2018. Congrats to Dhruv, David, Matthew, Ryan, Lauren, Sarah MH, Isabella, Maxwell, Pranit, Aman, Ian, Ethan and Courtney!

"In short, the Davidson Academy is absolutely amazing . . . If you've read any of the past newsletters, you know that the students create an unbelievably vibrant community, the teachers genuinely care about their students, the opportunities are endless, and so much more that I can't even begin to describe."

--Paolo Adajar, Davidson Academy Graduate
If you have been forwarded this Davidson Academy Prospective Student eNewsletter, and wish to receive future newsletters, sign up here.

Davidson Academy
Reno, Nevada
www.DavidsonAcademy.UNR.edu
communications@davidsonacademy.unr.edu
      
For more prospective student information,
visit the Davidson Academy Tours page.

Davidson Academy eNewsletter Archive.






Connect with us!