To receive future Davidson Academy Prospective Student eNewsletters, sign up here.


December 2018


The Davidson Academy Reno and Davidson Academy Online 2019-2020 application deadlines are fast approaching! The deadline for the Reno application is Jan. 30, 2019 and the deadline for the Online application is March 31, 2019. See below for more details.
Student to Student


Hi guys! My name is Vivek and I'm a fifth-year senior here at the Davidson Academy. Today I get to tell you my thoughts on this school, and I'm pretty excited about it. So, here's a list of a few of my favorite aspects of the DA.
The DA is welcoming. One of my first experiences with the DA was in a beginning of the year social event called "Posters and Pizza." Each class at the Academy gets a banner displayed above their lockers, and at this event, students get together to draw on, sign, and decorate this poster. At the time, I was an incoming student and I didn't really know anyone there. But fortunately, I wasn't alone. I sat down next to a small group of new students. Nervously, I began to introduce myself. "My name is Vivek, as in stomach-ache." Everyone at the table laughed at this comparison. At the time, I didn't realize that stomach-ache would become a long-standing nickname of mine. I also didn't realize that the people I had met in this little group would end up becoming some of my best friends years later. One of the great things about the DA is that most people have a similar story. Many people come to the school with stories of feeling excluded at previous schools, but at the Academy, everyone finds a home. Bonding over memes and interests is common, and it is easy to build friendships here.

The community is enthusiastic. If you have ever heard someone close to you talk excitedly about something that they are interested in, you'll know that passion is infectious. Similarly, a bit part of going to the DA is being surrounded by people who care immensely about their interests. This means hearing people talk extensively about topics you may have never thought about, from the design of window managers on a computer to the deeper themes in a cooking anime. On top of that, the teachers at the Academy care about their teaching to the point that it becomes easy to end up far more invested in subjects than you expect to be. It's hard not to be inspired by those around you, and this passionate atmosphere fuels self-discovery. Without the DA, I would never have discovered my love of biology or of marketing, and everyone I know has had their interests shaped in some way from their experience at the academy.

The DA creates opportunities. From poetry to engineering, students have diverse interests at the DA, and being a student means getting a chance to experience all of them. One way that students do this is through clubs. The DA has a number of student-run clubs on various topics in language, sciences, writing, and more. New clubs are forming all the time, and each gives students an opportunity to pursue interests beyond what they can do by simply going to school. But clubs aren't the only way students are encouraged to explore opportunities. Alongside clubs, the DA also helps engage students in the greater community. One of my favorite parts of the DA is its connection with the University of Nevada, Reno (UNR), the university in which the school is located. Classes at UNR are available for DA students to take in addition to courses offered at the academy, allowing for a vast variety of classes that are not available at a typical high school. I've taken classes like cell biology, marketing research, and mathematical analysis (a proofs-based class) at the university, and each class I've taken has given me the opportunity to dive far deeper into subjects than would be possible anywhere else. Many DA students–myself included–hold internships at UNR as well, providing a great opportunity to perform high level research before even entering college. Not only does the DA help you find interests, it helps you pursue them as well.

Before coming to the DA, I truly would have never imagined coming as far as I have because of the school's support. I've never seen a high-school more invested in its students' success, nor have I found a more genuinely collaborative environment in any school I've been to. Coming to the DA has become on of the most pleasurable and rewarding experiences of my life, and if anything I've said has resonated with you, consider applying for the 2019-2020 school year!

~ Vivek Yanamadula, Davidson Academy student
Online Campus
A Vibrant Community Where Students Thrive

2019-2020 Application Available
The 2019-2020 application for the Davidson Academy online campus is now available! Visit the Qualification Criteria and How to Apply pages to read about the application process. The deadline to apply for the online campus is March 31, 2019.

Open to students who live anywhere in the United States, this accredited online option builds off the one-of-a-kind, exceptional framework put in place by the Davidson Academy's Reno day school.

The result is a robust online community where students thrive. Learn about the benefits of online learning for gifted students and how Davidson Academy Online is working to meet their needs.

The online campus was featured in the following eLearning Inside news articles:
At Davidson, Online students benefit from:
Live, synchronous sessions
Quality peer interactions
Small class sizes
Responsive, caring instructors
Guidance counseling
College planning
Personalized Learning Plans
Opportunities for socialization
If you have any questions, please email online@davidsonacademy.unr.edu.
Online Campus - Learn More

In-Person Regional Events
Davidson Academy Online In-Person Regional Events offer an opportunity to hear more about Davidson Academy's online campus. The events will include presentations on admissions, curriculum, technology, and our vision. Attendees will have the opportunity to ask questions throughout. Questions that are global in nature will be answered during the open house; questions which are more personal in nature may be answered afterwards. The following event dates and locations have been announced:
Thurs., Jan. 10, 4:30 p.m. at John Marshall Library (Meeting Room A), 6209 Rose Hill Dr., Alexandria, VA 22310
Sat., Jan. 12, 10 a.m. at La Jolla Riford Library (Foushee Patio Room) 7555 Draper Ave, La Jolla, CA 92037
Mark your calendar and register here: http://bit.ly/daoopenhouse1819.

Virtual Open Houses
Join us to learn more about this exciting online learning option on the following dates:
Thurs., Jan. 24, 5 p.m. PT
Tues., Feb. 19, 6 p.m. PT
Wed., March 13, 4 p.m. PT
RSVP here: http://bit.ly/daoopenhouse1819

Reno Campus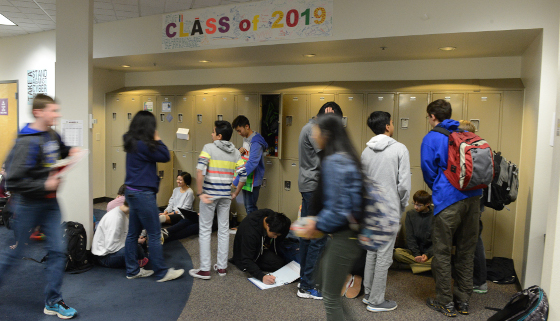 Day School in Reno, Nevada - For middle and high school students
The 2019-2020 application for the Davidson Academy Reno day school is now available! Visit the Qualification Criteria and How to Apply pages to read about the application process. The deadline to apply for the Reno campus is Jan. 30, 2019.

The Academy is specifically designed to meet the needs of profoundly gifted middle and high school students who score in the 99.9th percentile on IQ or college entrance tests.

If you are looking for an environment to better fit your social and academic needs, the Davidson Academy may be the place for you! At the Davidson Academy, our mission is to offer you advanced educational opportunities designed to specifically serve your needs, interests and goals. In addition, we provide:

A Personalized Learning Plan (PLP) that serves as a tool to guide us in meeting your unique needs;
A wide range of courses and learning options, including: choices of levels of study to pursue in each of your courses, university courses, and independent study and research opportunities;
The opportunity to build friendships, pursue extracurricular activities, contribute to the community and learn with intellectual peers;
Access to the intellectual, cultural, athletic resources on the University of Nevada, Reno campus, the Reno/Tahoe area and the beauty of the Sierra Mountains.
For more information, please email outreach@davidsonacademy.unr.edu.
Student Wins Senate Scholarship

Congratulations to Morgan Heath-Powers, a senior at the Davidson Academy, who earned a $10K 2019 U.S. Senate Youth Program (USSYP) scholarship! Morgan will have the opportunity to meet with Nevada's U.S. Senators, Catherine Cortez-Masto and Jacky Rosen, during a week-long trip to Washington D.C. Morgan is the president of the state chapter of DECA. Read more >
Davidson Alumni Share Experiences in New Video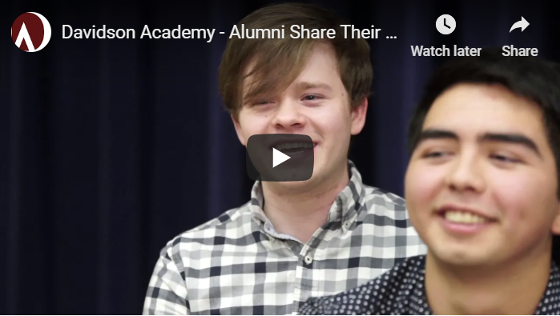 The new Davidson Academy Alumni Video was recently released! Listen to the perspectives of a number of Davidson Academy alumni and learn what makes the Davidson Academy unique. These firsthand accounts - from those who know the school best - will shed insight on the school's curriculum, social atmosphere, the Reno-Tahoe area and more.
New Overview Video

The Davidson Academy Overview Video was also recently released. Learn about the Academy from students, parents, instructors and staff. Hear about the school's curriculum, social atmosphere and more!
Accreditation
The Davidson Academy has been accredited by the Northwest Accreditation Commission (NWAC), one of the nation's six acknowledged accreditation agencies and a division of AdvancED. Read more >
"As I reflect on the total of five years I will have spent at this incredible school by the time I graduate, I'm grateful to have had an experience that not only challenged me intellectually, but supported me in discovering interests I never knew I could have, as well as mentors and friends I never expected to make."

--Morgan Heath-Powers, Davidson Academy Student
If you have been forwarded this Davidson Academy Prospective Student eNewsletter, and wish to receive future newsletters, sign up here.

Davidson Academy
Reno, Nevada
www.DavidsonAcademy.UNR.edu
communications@davidsonacademy.unr.edu
      
For more prospective student information,
visit the Davidson Academy Tours page.

Davidson Academy eNewsletter Archive.






Connect with us!