To receive future Davidson Academy Prospective Student eNewsletters, sign up here.


December 2017
---
Both the Academy's Online High School and Reno campus applications are open. The deadline for the Reno campus application is Jan. 15 and the deadline for the Online High School application is Feb. 28. See details below and apply today!
Student to Student


Hello prospective students!

My name is Aman, and I am a senior this year at the Academy. It's hard to believe this, but I've been here since I was 10—almost six whole years! You might be wondering why those numbers don't add up to an age you'd typically expect for a senior.
One of the (many) amazing things about the Academy is that students aren't bound to take classes by age. Like many students, I started taking high school classes my first year here, and over time those amounted to enough credits for an early graduation. To be honest, my decision to graduate early was a tough choice: it's going to be very hard to say goodbye to the Academy two years before I need to.

So why did I even choose to graduate early? It's because the Academy inspired and fostered passion in me. Between the motivated students, the enthusiastic teachers, and the helpful administration, it's difficult not to feel excited about learning. There are always going to be several peers who share interests with you, and there is always going to be a friend or staff member who can and will help you solve any problem of any nature. In particular, the Academy's clubs offer a collaborative space to connect with other students over anything under the sun. For example, I became interested in current events and politics last year, so I joined our World Affairs club (of which I am now Vice President). Also last year, I wanted to explore my Indian heritage, so I found other students who wanted to do so too and we started our own club with the help of the administration. Here, there are almost no barriers in the way of a student's drive and ambition, and in most cases our community will instead actively encourage students to follow their dreams. In fact, the Academy fueled my passion so much that I now want to start making a difference in the world as soon as possible.

You've probably already heard about the unique way our school is structured, so I'll instead dive into more subtle aspects of life at the Academy: the classes and the students. Our classes are extraordinarily small—this year, my classes average about eight students each. Having so few people in each class allows for interesting discussions and close cooperation that can't be found anywhere else. Getting to hear everyone's unique perspectives and being able to contribute without being drowned out is a wonderful experience. Everyone gets to connect strongly with classmates and see how they view the world, which can be truly eye-opening and inspirational. Every day, I learn just as much from my fellow students during discussions as I do from my teachers during lessons. Our student body is incredibly diverse in terms of specialties. Nobody does just one thing. We have students who are amazing at math but also love debate, who want to study science in college but also write creative stories, who can program incredibly but also play instruments well. There isn't anyone who is bound to excel at just one thing, and most students will learn about everything that interests them. Most importantly, everyone loves what they do, teachers and staff included. You won't find anyone who doesn't enjoy being here.

To wrap this up, I'll extend to you one piece of advice that I've been using during college application season (the one not-so-fun part about this year): it doesn't hurt to apply. If you feel like the Academy is the right fit for you, consider applying for the 2018-19 school year. You won't regret it. Good luck!

~ Aman Patel, Davidson Academy student
Online High School

Open to students in eighth grade and above living anywhere in the United States, the Online High School takes the best of a Davidson Academy education and builds a robust online community where students can thrive. Online students benefit from:

Live, synchronous sessions
Quality peer interactions
Small class sizes
Responsive, caring instructors
Guidance counseling
College planning
Personalized Learning Plans
Embedded opportunities for socialization
Reno Campus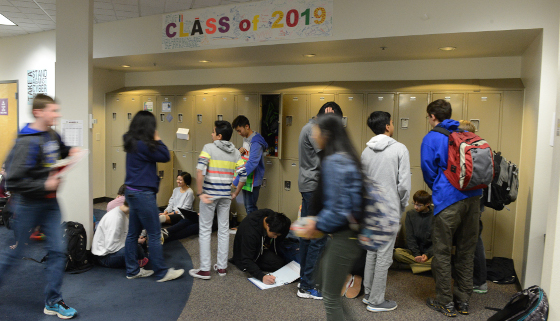 If you are looking for an environment to better fit your social and academic needs, the Davidson Academy may be the place for you! The Davidson Academy in Reno is a free public day school for profoundly gifted middle and high school students located on the University of Nevada, Reno campus. Classes are grouped by ability level, rather than by age-based grades providing profoundly gifted young people an educational opportunity matched to their abilities, strengths and interests.



The 2018-2019 Davidson Academy Reno campus

application deadline is Jan. 15

, in just a few weeks. To apply, students must be at the middle or high school level across all subject areas and score in the 99.9th percentile on IQ or college entrance tests, such as the ACT or SAT. Please visit the Davidson Academy's Qualification Criteria and Application Review Process pages. Applications are reviewed on a monthly basis. Visit the How to Apply page to access the application.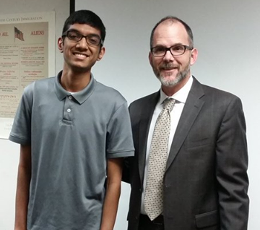 Academy student Pranit Nanda recently received $10,000 as part of the 2018 U.S. Senate Youth Program scholarship (USSYP). Nevada Superintendent of Public Instruction Steve Canavero presented Pranit with the scholarship at the Academy. Pranit will have the opportunity to meet with Nevada's U.S. Senators, Dean Heller and Catherine Cortez-Masto, during a week-long trip to Washington D.C. Source: Nevada Appeal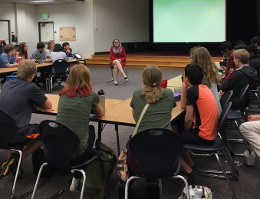 Scientist Julie Robinson, the chief scientist for the International Space Station, recently visited the Academy to meet students and talk to them about her work with NASA.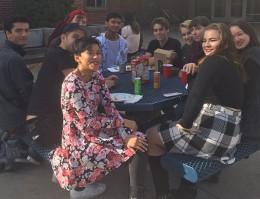 Davidson Academy students and a number of alumni attended the fifth annual Davidson Academy Thanksgiving Potluck! All the leftovers were delivered to the local homeless shelter.
"We have become like a family, and that's the biggest thing Davidson has given me. I've found people that I love more than anything, and this has honestly changed who I am. Not everyone who comes here experiences the same thing, but for me Davidson was the perfect thing at the perfect time. It might not be for you, but if you do decide to come . . . well, we could always use a bigger family."

--Katherine Oakley, Davidson Academy Graduate
If you have been forwarded this Davidson Academy Prospective Student eNewsletter, and wish to receive future newsletters, sign up here.

Davidson Academy
Reno, Nevada
www.DavidsonAcademy.UNR.edu
communications@davidsonacademy.unr.edu
      
For more prospective student information,
visit the Davidson Academy Tours page.

Davidson Academy eNewsletter Archive.






Connect with us!