To receive future Davidson Academy Prospective Student eNewsletters, sign up here.


August 2019


Fall 2019 Davidson Academy tour dates have been announced! See details and RSVP information below.

Both the Davidson Academy Reno and Davidson Academy Online 2020-2021 applications will be available September 16!
---
Student to Student


Hello! My name is Caroline Stanton and I am a second-year student at Davidson Academy Online (DAO). Throughout my years as a student I have been to private, public, magnet, and online schools, but none of those experiences compare to DAO. When I first joined Davidson I was worried. I had been to two other schools just the year before (one magnet and one public) and neither had worked. Not to mention my online school experience was very small as I had only taken a few asynchronous online classes before. However, after orientation day, all my fears were assuaged. The live sessions were stimulating and engaging, the teachers were invested in my learning, the work was actually interesting, and my peers were amazing!

In public school, I just had to sit in class and do work that was below my level. I finally feel like I am learning in an environment fit for me. Along with a stimulating curriculum, I'm finally surrounded by like-minded peers. Because of this, I've made strong friendships and connections throughout my two years. Davidson has helped be become a successful student too. I'd always had trouble taking notes, planning, and studying but DAO has let me create my own strategies for each! The school is meant for gifted kids and it shows in everything they do. Thanks to Davidson I finally feel at home at school.

~ Caroline Stanton, Davidson Academy Online student
Online Campus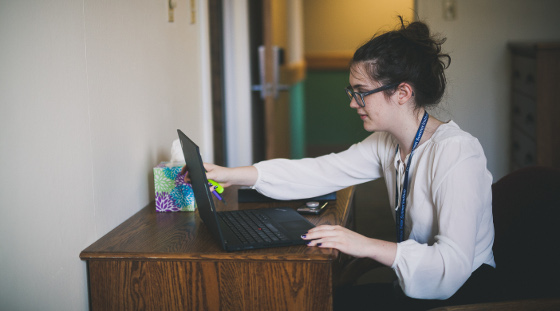 A Far-Reaching Online Education. Decidedly Different.
What sets the Davidson Academy online campus apart from other online schools for gifted students? Our mission to provide profoundly gifted young people an advanced educational opportunity matched to their abilities, strengths and interests. Nowhere else will profoundly gifted students find a school that is intentionally designed for them.

At Davidson, Online students benefit from:
Live, synchronous sessions
Quality peer interactions
Small class sizes
Responsive, caring instructors
Guidance counseling
College planning
Personalized Learning Plans
Opportunities for socialization
The 2020-2021 Davidson Academy Online Application will be available September 16. Open to students who live anywhere in the United States, this accredited online option builds off the one-of-a-kind, exceptional framework put in place by the Davidson Academy's Reno campus. The result is a robust online community where students thrive.

Visit the Qualification Criteria and How to Apply pages to read about the application process.

If you have any questions, please email online@davidsonacademy.unr.edu.

Meaningful, Highly Personalized Social Interactions
Beyond the advanced academics that we offer, the hallmark of Davidson Academy Online is the authentic opportunities for meaningful interactions with classmates and instructors that happen daily. At Davidson Academy Online, students have rich opportunities for socialization through our courses and extracurriculars. Students Meghana and Nate describe how below:
Meghana Dodda

I was happy and hopeful about Davidson Academy Online, but another part of me was nervous, and I was full of questions. Would I be able to make friends, despite the virtual environment? I can tell you with ease that the answer is a resounding yes.
It's insane how easy it is to connect and relate to the people around you at DAO. When you think about it, it is pretty crazy, as the students who attend are from all over the country are from various educational backgrounds, and have a wide variety of hobbies and interests among them. Despite all these differences, DAO has pulled all of us together, and it's nearly effortless to find something in common with every student here.

The extracurricular opportunities also allow us to connect with my friends and share my passions with them. We also have school-wide events, like monthly community meetings, movie nights, and game nights that help us unite as a school.

I personally feel like I'm part of a close-knit community here at DAO, which is something I treasure. I have found a home and have enjoyed my time here immensely doing things I love most with all the smart, creative, and fun people around me.

Nate Welsh

What I have loved most about my experience at Davidson Academy Online is the many close friendships I have developed.
The teachers go out of their way to ensure that we have opportunities to work with our peers. Thanks to their efforts, the thousands of miles between us seem to evaporate, and the small class sizes ensure that each student is engaged in any group discussions and will receive extra help if needed.

My favorite part of DAO has been meeting new friends that live all across the country. I talk in group chats and host calls to talk with my friends on a daily basis. We all feel very closely connected, as there is a sense of real, genuine community in our school, even if we only see each other as pixels on a screen. My favorite DAO-related memories came from the two meetups that we have had. Over winter break, about 20 DAO families met up in San Diego to spend a few days together. The transition from being virtual friends to being real friends felt completely natural. Ever since the meetup ended, we haven't stopped talking about when we can meet up next!
Single-Course Enrollments

Single-course enrollments are now available through the Davidson Academy's online campus! With two English and two math courses for single-course enrollment having just begun, these enrollments have the same curriculum and workload expectations as the full-time Davidson Academy Online campus. Courses follow the academic school year calendar.

Please view the Single-Course Enrollments page and our infographic. To learn more or apply visit How to Apply > or email online@davidsongifted.org if you have any questions.
Reno Campus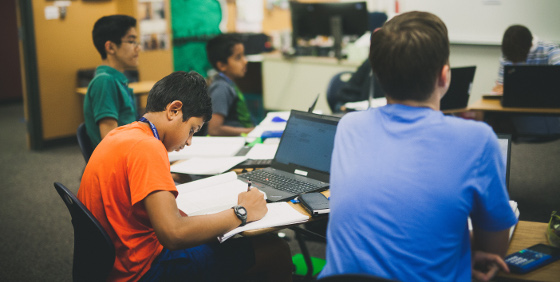 No Place Quite Like it - Full Time School in Reno, Nevada for Middle and High School Students

For more than 13 years, the Davidson Academy's free, accredited public school located on the University of Nevada, Reno campus has centered on interpersonal and instructional dynamics creating an atmosphere that is vibrant with intellectual energy and dialogue. As the school has grown, the Academy has evolved to offer an increasing number of opportunities, while still providing a laser-sharp focus on the individual student.

Davidson Academy students have the opportunity to participate in many clubs and extracurricular activities throughout the year, as well as enroll in courses at the University under a dual enrollment agreement. Accredited Reno campus course listings and University offerings (recently updated) >

If you are interested in applying to the Academy for the 2020-2021 school year, the application will be posted September 16. Visit the Qualification Criteria and How to Apply pages to read about the application process. If you have any questions, please email applications@davidsonacademy.unr.edu.


Fall Tour Dates - Recently Announced
The Davidson Academy hosts fall tours for prospective Reno Campus students and their parents. At these tours, prospective students and their parents meet current Academy students, parents, faculty and staff, and ask specific questions about the school. Upcoming school tours will be held from 2 p.m. to 4 p.m. on the following Fridays (RSVP Required):
Sept. 6, 2019
Oct. 18, 2019
Nov. 15, 2019
Dec. 6, 2019
For more information, please email outreach@davidsonacademy.unr.edu.
Web Updates
Academic Investment
At the Davidson Academy, we accept students who are academically ready for coursework at least at an advanced middle school level to join our community of gifted learners. We offer a full middle school and high school curriculum at our campus in Reno and through our online Academy, and group our students by ability rather than age. Learn more >


Updated School Profile
The updated Davidson Academy School Profile is now available on the Academy website. It provides information on the Academy's background, students, mission statement, goals, core values, eligibility criteria, curriculum, graduation requirements and more.
Meet Mr. Bondarchuk, Online Instructor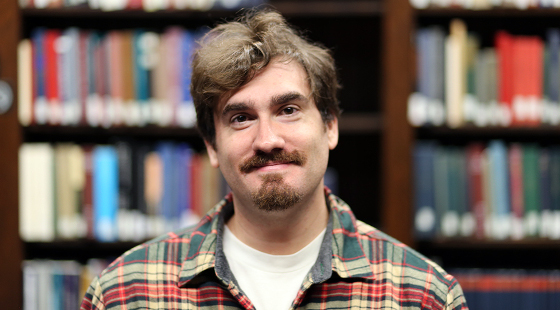 What classes are you teaching at the Davidson Academy?
This term I will be teaching or co-teaching four classes: Calculus I, Calculus II, Personal Identity, and American Literature. The two calculus courses are for our online campus. The other two are traditional in-person courses at our Reno campus. Personal Identity is a philosophy elective that I designed myself. It is loosely modeled on a course I taught when I was in graduate school at Harvard, but calibrated to our advanced students who may have no experience with philosophy classes. Finally, American Literature is a class I am co-teaching with Vickie Smith-Barrios. (It would be more accurate to say that I will be the oldest student in the class.) I am one of a relatively small handful of DA instructors who teach at both campuses. I am excited to get a flavor for each.


What aspect of teaching Davidson Academy students are you most looking forward to?
I have only been here a short while, but it's really an incredible privilege to work with such a talented and motivated student body. I became a teacher because I am fascinated by ideas, and I want to share that fascination with others. But that can be difficult to pull off, especially if students are cynical about the point of their education. But Davidson students aren't approaching their secondary education with a cynical attitude. I think that grouping students by ability has a lot to do with that. It ensures students are always working at the outer limits of their intellectual capacities.


What unique perspectives do you bring to the Academy as you begin your first year with us?
I don't know if this makes me unique, but I reject the paradigm of two academic cultures, made up on one side by mathematics, natural and social science, and engineering, and on the other side by the humanistic disciplines. This is reflected in my course assignments and in my own educational trajectory. (I have degrees in math and philosophy.) There's a fairly straight line from my interest in mathematics to my interest in more existential questions. When I complete a mathematical proof, it feels as if I have just uncovered some deep structure of reality. If you're anything like me, this relates mathematics to the kinds of questions that animate traditional philosophical inquiry: What is the nature of the world and what is my place within the world?

The 20th century philosopher Wilfred Sellars once wrote that the point of philosophy is "to understand how things in the broadest possible sense of the term hang together in the broadest possible sense of the term." I try to bring that kind of holistic attitude to bear on whatever I am studying or teaching, whether it's calculus or literature. I think any field of inquiry becomes properly philosophical if you keep asking "Why?" Disciplinary boundaries are, of course, necessary and important, but they can also reinforce arbitrary divisions. It's all just inquiry in the end.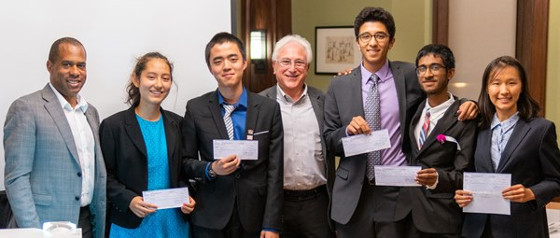 Davidson Academy student Jason Liu (pictured, third from left) is a 36th Annual Research Science Institute awardee! Jason is one of ten winners chosen from 82 participants by an eminent panel of judges at the 36th annual RSI held at the Massachusetts Institute of Technology (MIT), and will receive a $1,000 scholarship award.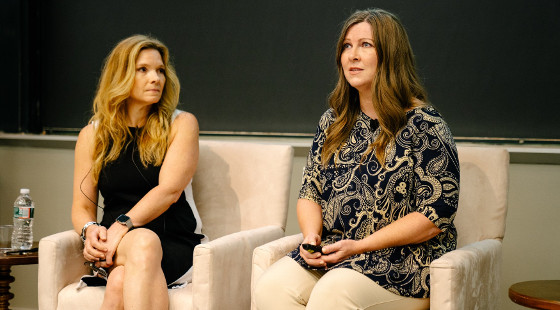 Stacy Hawthorne, Director of Online Learning at the Davidson Academy (pictured, left), recently spoke at the MIT LINC Conference! The 2019 conference brought together an international group of researchers and practitioners to discuss how learning science, pedagogical approaches, and digital learning can provide quality education.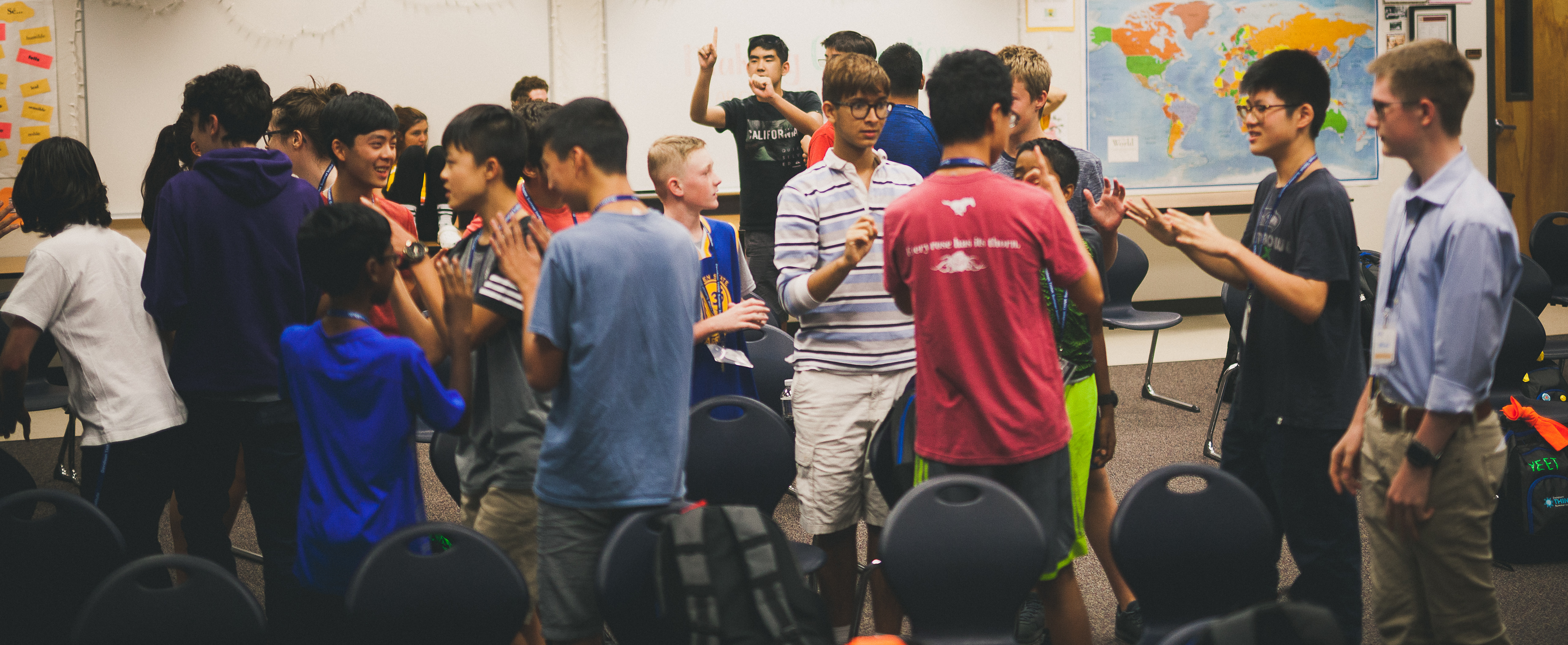 Students at the Davidson Academy have the opportunity to participate in many activities throughout the school year. From the Fall Festival and Winter Dance to Pi Day and Spirit Week, there is always something fun happening! See recently-updated clubs and extracurricular activities >

Davidson Academy student Luke Noonen created this PSA about the importance of organ donation!

Davidson Academy student and pianist Derek Chien recently performed at the TOCCATA-Tahoe Symphony Orchestra and Chorus at the Genoa Lakes Golf Club Ballroom.
"Having so few people in each class allows for interesting discussions and close cooperation that can't be found anywhere else. Getting to hear everyone's unique perspectives and being able to contribute without being drowned out is a wonderful experience. Everyone gets to connect strongly with classmates and see how they view the world, which can be truly eye-opening and inspirational."

--Aman Patel, Davidson Academy graduate
If you have been forwarded this Davidson Academy Prospective Student eNewsletter, and wish to receive future newsletters, sign up here.

Davidson Academy
Reno, Nevada
www.DavidsonAcademy.UNR.edu
communications@davidsonacademy.unr.edu
      
For more prospective student information,
visit the Davidson Academy Tours page.

Davidson Academy eNewsletter Archive.






Connect with us!