To receive future Davidson Academy Prospective Student eNewsletters, sign up here.


April 2019


The Davidson Academy Online 2019-2020 application deadline has been extended until April 15! Also, see information on our exciting new single-course enrollments option below!
Davidson Academy Online Now Offering Single-Course Enrollments!

For the first time, single-course enrollments are now available through the Davidson Academy's online campus! Davidson Academy Online is now offering two English and two math courses for single-course enrollment beginning Fall 2019.

Single-course enrollments will have the same curriculum and workload expectations as the full-time Davidson Academy Online campus. Courses run from August 2019 - May 2020.

Please view the Single-Course Enrollments page and our infographic below (click to view the PDF). To learn more or apply visit How to Apply > or email online@davidsongifted.org if you have any questions.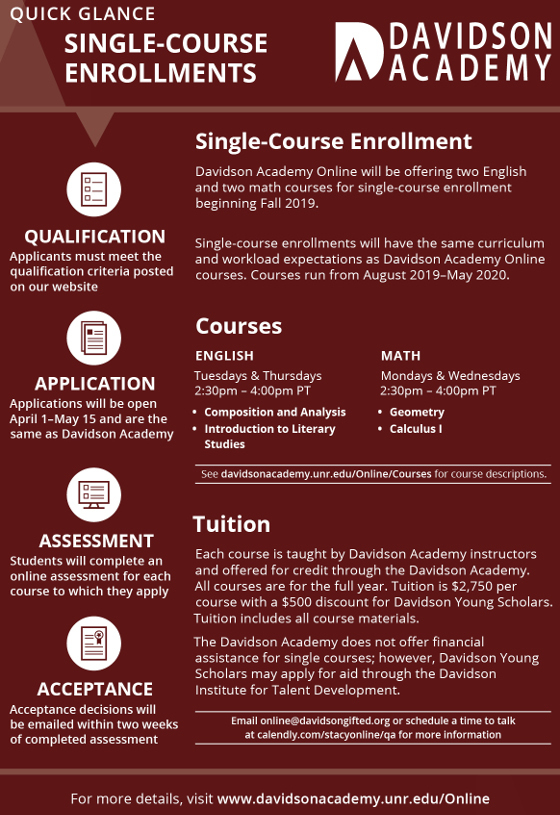 Online Campus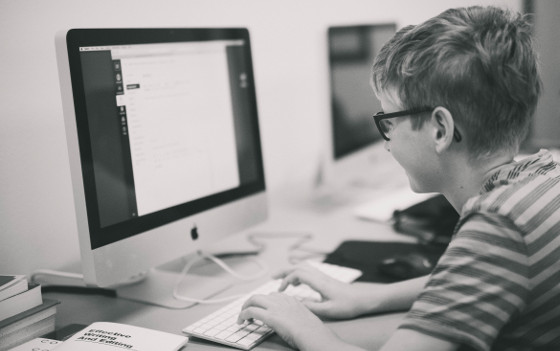 A Vibrant Community Where Students Thrive

2019-2020 Application Deadline Approaching!
The 2019-2020 application deadline for the Davidson Academy online campus is April 15, 2019.

Open to students who live anywhere in the United States, this accredited online option builds off the one-of-a-kind, exceptional framework put in place by the Davidson Academy's Reno day school. The result is a robust online community where students thrive.

The Davidson Academy is the only school designed specifically for profoundly gifted students with classes grouped by ability, not age. Our online, accredited option leverages technology to create a new, highly personalized model of online education.

At Davidson, Online students benefit from:
Live, synchronous sessions
Quality peer interactions
Small class sizes
Responsive, caring instructors
Guidance counseling
College planning
Personalized Learning Plans
Opportunities for socialization
Visit the Qualification Criteria and How to Apply pages to read about the application process.

If you have any questions, please email online@davidsonacademy.unr.edu.

Student to Student

Hello prospective students!

My name is Meghana Dodda, and I am a current second year student at Davidson Academy Online. I live in Pennsylvania, nearly 3000 miles away from the physical campus in Reno, and went to "regular" public school before DAO. When my parents and I found out about Davidson a while back, we immediately knew it was the perfect place for me.
However, we were never able to relocate to Nevada, which posed a significant problem in attending. When I had just about given up on my hope of attending Davidson for high school, my parents got an email introducing us to Davidson Academy Online.

My family sat down to discuss the possibility of me attending DAO for the next four years, and we carefully thought over a lot of things. I was happy and hopeful about the online option, but another part of me was nervous, and I was full of questions. Would the courses be appropriately challenging? Would the teachers and other students be easy to communicate with? Would I be able to make friends, despite the virtual environment? Halfway through my second year here, I can tell you with ease that the answer to all these questions is a resounding yes.

The coursework is perfect for me in terms of difficulty, and the curriculum has a goal of exploring depth in concepts, rather than just getting through the syllabus. We learn how to get to the right answer, and we also learn that there's so much more than just the right answer: There's a process behind the right answer that requires a thorough understanding, and we are taught this too. Another crucial part of education is teachers and interactions with our peers. The teachers are wonderful. Not only are they understanding and reasonable with coursework, but they are also amazing to talk to, as it's clear they want the best for you.

It took barely an hour of my first class to realize that DAO was even better than I had expected. Even though I knew beforehand that classes would be live and that there would be plenty of interaction between everyone, it didn't really click until I was in this virtual room that displayed other cameras with several other people who were so entertaining to talk to and have fun with during classes. Class discussions often fill up the whole one and a half hour with everyone chiming in, and there are arguments and agreements that float around during every session, but every class leaves you with a new thought or some new knowledge that you didn't have previously.

Additionally, it's insane how easy it is to connect and relate to the people around you at DAO. When you think about it, it is pretty crazy, as the students who attend are from all over the country, are from various educational backgrounds, and have a wide variety of hobbies and interests among them. Despite all these differences, DAO has pulled all of us together, and it's nearly effortless to find something in common with every student here.

The extracurricular opportunities are a clear example of everyone being able to pursue their own interests, while also connecting with peers. We have a wide range of clubs and an opportunity to create new ones at the beginning of each year, along with an array of interesting electives and a Student Government. I'm currently involved in a couple clubs, am a Writing TA, and was lucky enough to be elected Student Council president after our elections in November. I am individually passionate about these activities, but all of them also enable me to connect with my friends and share my passions with them. We also have school-wide events, like monthly community meetings, movie nights, and game nights that help us unite as a school.

I personally feel like I'm part of a close-knit community here at DAO, which is something I treasure. In the past two years, I have found a home at DAO and have enjoyed my time here immensely doing things I love most with all the smart, creative, and fun people around me. Applying to an online school might be daunting at first, but if what I just described sounds like an environment you'd enjoy, I urge you to apply to Davidson Academy Online—you definitely won't regret it!

~ Meghana Dodda, Davidson Academy Online student
Meet Dr. Potts, Online Instructor
What classes are you teaching at the Davidson Academy?
I have a wide array of classes this year! This is my fourth year teaching Early Civilizations, which is an exploration of human history from our earliest ancestors through the Middle Ages. I'm also teaching Introduction to Literary Studies, which focuses on argumentative essays and literary analysis. It's one of my favorite classes to teach. I taught Creative Writing as an elective in the fall, and my spring elective is Science Fiction. It's an eclectic and challenging set of classes, but it's never dull.
How long have you taught at the Academy, and how has the school changed since you started?
I started teaching at the Davidson Academy in January 2009. It's hard to believe it's already been 10 years! Our student body has grown, as has our teaching and support staff, but I think our ethos and mission have largely remained the same. We've developed an excellent curriculum and worked to develop best practices for profoundly gifted students, which I think makes us a leader in this niche field. I'm always blown away by the talent and dedication of my colleagues, and I've watched many of them complete doctorates, earn teaching awards, and present at major conferences.

The students at Davidson have established a variety of clubs and teams, and it has been amazing to watch them compete in robotics competitions, debates, and even intramural basketball games. And it's been heartwarming to watch our growing cadre of graduates head out into the world and do amazing things. I've had graduates come visit me here in Prague, CZ and I'm always impressed by these ambitious and adventurous young adults. I'm truly grateful to have been a part of the Davidson family for the past decade, and I'm looking forward to the next ten years.

What are a few of the more interesting or challenging projects that you have assisted Academy students with in your classroom?
I've found that giving profoundly gifted students a little more free rein on projects and major assignments results in more creative, more interesting finished products. By blending a supportive set of guidelines with the encouragement to take intellectual risks, nearly every project can become something amazing.

For example, students in Introduction to Literary Studies write argumentative essays for their final project in the fall, and since they can choose their own topics, I've had the pleasure to read essays that students are actually passionate about. Students in all of my classes are also encouraged to push the envelope with their presentations. I've had students put on skits, share amazing pieces of artwork, lead brilliant discussions, and come up with thoughtful activities for their classmates. Offering more leeway can definitely be challenging for both the students and the teacher, but I am always impressed with intellectual and creative risks that the students take when they know they have freedom and support in the classroom.

How does teaching for Davidson Academy Online compare with teaching at the Davidson Academy day school?
A lot of what we do online is comparable to the brick-and-mortar practices. The curriculum is very similar, and as instructors, we work to give our online students the same levels of rigor and personalization that the students receive at the day school. However, working and learning online has a unique set of challenges. Both teachers and students must be incredibly organized and self-regulated, since we don't have the benefit of a highly-structured daily schedule.

Our communication with our students is also quite different. While we do meet for two 90 minute live sessions each week, a lot of our communication takes place via email and Teams. Communication online takes a lot more time and effort than it does in the building, but it's vital for student success. It can also be challenging to spend so much time in front of a computer, so online teachers and students are encouraged to stretch often, take screen breaks when possible, and balance our lives with social and extracurricular activities. While the ethos of DAO is identical to the ethos of the DA, online teaching and learning is a different beast that requires a slightly different approach. However, I've loved teaching online, and I'm grateful to be able to work with profoundly gifted students from all over the country.
Online Campus Overview Video
Learn what makes the Davidson Academy Online campus unique from firsthand accounts of those who know the school best - students, parents, instructors and staff - in the Online Overview Video!
Reno Campus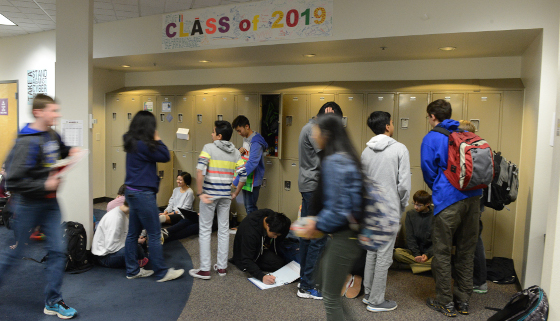 While the deadline to submit applications for the 2019-2020 school year has passed, it's not too early to think about 2020-2021. A free public day school for profoundly gifted middle and high school students located on the University of Nevada, Reno campus, the Davidson Academy provides an environment designed to fit your social and academic needs. If you are interested in applying to the Academy for the 2020-2021 school year, the application will be posted this August. Please review the Reno Campus Qualification Criteria and Reno Campus How to Apply pages of our website for more information.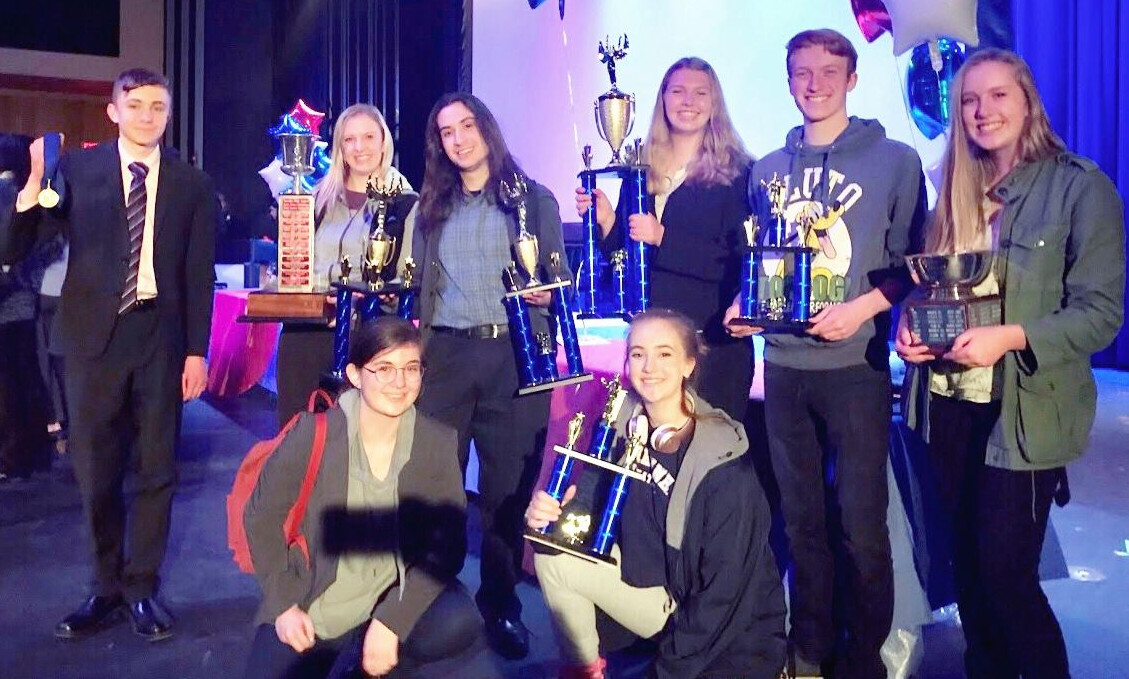 The Davidson Academy speech and debate team recently did really well at the state tournament in Las Vegas! Rhiannon Moore is a state champion in "Lincoln Douglas". Leo Phelan got to semifinals in congress. Siena Kelso Mooney and Caitlin Hamilton got third in policy, and Zane Williams and Annika Mills got to quarter finals in public forum. Davidson also received the bowl for Lincoln Douglas and won first place in the small school division.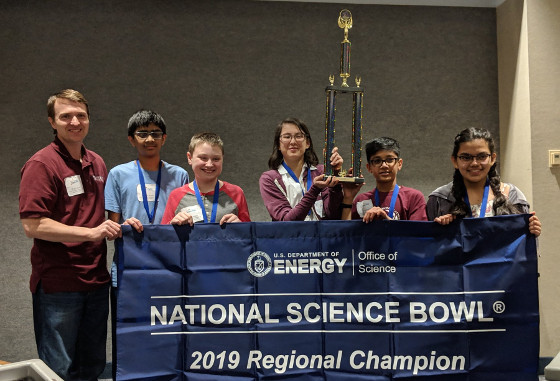 The Davidson Academy's middle school team recently took first place at the Arizona Regional Science Bowl in Phoenix! They competed against 20 teams from Arizona and Nevada and pulled off several stunning victories to take home the title. They earned an all-expenses-paid trip to Washington, D.C. to compete at the National Science Bowl at the end of April. Congrats to team members Arvind Murty, Emmy Bonser, Darsh Patel, Nikita Mishra, and Dallin Guisti!
Sarah MacHarg, a 2018 graduate of the Davidson Academy, was featured in a very cool short documentary about her stay in China! Sarah is currently taking a gap year to learn Chinese as part of the NSLI-Y program. This video documented her and her classmate exploring Chinese tea culture and was aired on China Central Television (the most privileged TV station in China). Please click the second video to view: Please click the second video to view >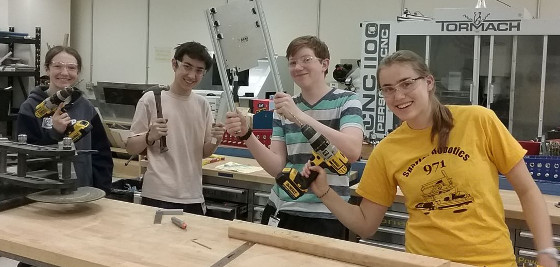 Several Davidson Academy students participate on the community-based FYRE robotics teams. They were featured in this Nevada Today article.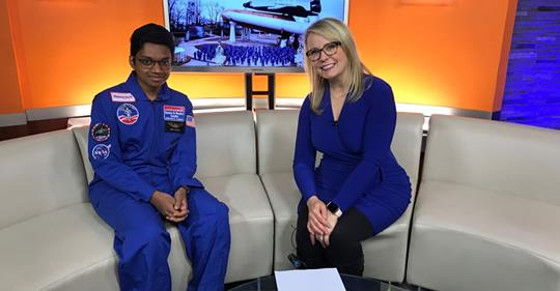 Students from around the world (including a student from the Davidson Academy!) were hand-selected to spend a week at the U.S. Space & Rocket Center in Huntsville, Ala. as a part of the Honeywell Leadership Challenge Academy. Academy student Yatin Chandar talks about his experience at space camp on Fox Reno!
"While there are many benefits to Davidson Academy Online, my favorite part of the program has been meeting new friends that live all across the country. I talk in group chats and host calls to talk with my friends on a daily basis. We all feel very closely connected, as there is a sense of real, genuine community in our school . . . "

--Nate Welsh, Davidson Academy Online student
If you have been forwarded this Davidson Academy Prospective Student eNewsletter, and wish to receive future newsletters, sign up here.

Davidson Academy
Reno, Nevada
www.DavidsonAcademy.UNR.edu
communications@davidsonacademy.unr.edu
      
For more prospective student information,
visit the Davidson Academy Tours page.

Davidson Academy eNewsletter Archive.






Connect with us!