To receive future Davidson Academy Prospective Student eNewsletters, sign up here.



April 2018


Student to Student


Hello Prospective Students! My name is Matthew Bauer and I am a senior at the Davidson Academy. This is my seventh and final year at the academy, and I can honestly say that coming here was the best choice I've ever made.
For me, the most defining aspect of the school is the community. A lot of students come to the Academy wondering whether they'll be able to fit in, but rest assured: there's a place here for everyone. Since the Davidson Academy is so small compared to traditional high schools, it's kind of like a big family: you'll know all your peers by name, and will probably take classes with all of them too. Your friends at the Academy will be energetic, supportive, hilarious, and will push you to do your best and succeed. Whether you find yourself skiing, practicing for a play, doing homework, or studying for an international olympiad, your friends will always have your back.

Another huge part of the community is the truly unique collection of instructors and staff that bring the Academy to life. Whether it be for history or biology, the teachers here are knowledgeable, engaging, and effective–and above all, they are completely invested in helping you learn. They design classes to be flexible, so that you can focus on material that you're excited about instead of repeating what you already know; they'll make time to help you outside of class if you're writing an essay that you just can't figure out how to finish; they'll even play football with you outside during lunch. Behind the scenes, there's also a wonderful team of academy staff that'll help you figure out your class schedule, plan pizza days, order club supplies, and use the massive copier they have in the back.

Like everything else, classes at the Davidson Academy are totally unique. Because the school is so small, the classes are too; depending on the class, you'll be working with anywhere from five, to at most around 20 other students. This means that unlike traditional lecture-style teaching, classes at the Academy are very personal, and focus a lot on each student getting really involved in the material. Normal academic classes at the Academy only run for four days a week, because on Friday you'll go to your "Friday electives" instead: fun, lightweight classes that will really help you relax and make new friends. For example, this year I'm taking an elective about post-apocalyptic literature taught by our resident philosopher, where we read about human-controlling fungi, prepare for a zombie apocalypse, and try to model human society using only pleasure and pain (spoiler: it doesn't work very well!).

To top it all off, the Academy is located at the University of Nevada, Reno, giving students full access to the unbelievable wealth of resources that the University has to offer. If you advance past the classes at the academy, you can take University classes instead–and I promise you'll never run out of things to do there. You'll have access to almost all of the University restaurants and cafeterias, one of which is even connected directly to the academy. In addition, many students study together at the library and go to the campus gym after school. One opportunity that I've felt extremely lucky to have had access to is an internship at one of the University's biology labs, where I took part in real-world research using cutting-edge tools; this experience has really shaped my aspirations for the future, and I am incredibly grateful for it.

All in all, the Academy is the perfect place for students who want a deep and supportive community, who love speaking up in class and talking to their teachers, who are unique and creative, and who are excited to learn and grow as much as they possibly can. If that sounds like you, then I can say this with absolute certainty: there's no better choice than applying to the Davidson Academy.

~ Matthew Bauer, Davidson Academy student
Online High School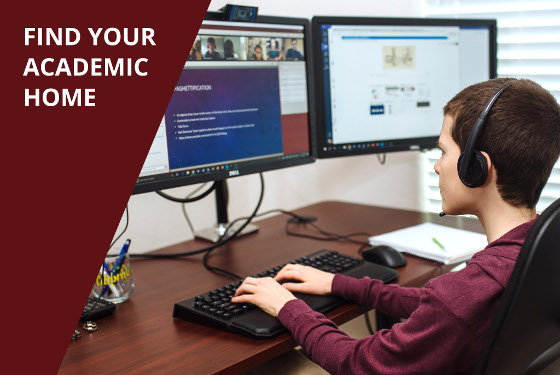 A Stimulating Online Community Where Students Can Thrive
The Davidson Academy's Online High School is a game changer for profoundly gifted students. Open to students in eighth grade and above living anywhere in the United States, the accredited Online High School builds off the one-of-a-kind, exceptional framework put in place by the Davidson Academy in Reno. The result is a robust online community where students thrive. A Day in the Life of a Davidson Academy Online Student >

The Davidson Academy's Online instructors build their virtual "teacher presence" in order for students to feel connected to them, as if they were in the same physical classroom. When asked what methods they use to accomplish this goal, they shared a variety of approaches.

The 2019-2020 Online High School application will open in October. The Online High School is for profoundly gifted students in eighth grade and above living anywhere in the U.S. This accredited option is designed to be different from a traditional online education. Online students benefit from:
Live, synchronous sessions
Quality peer interactions
Small class sizes
Responsive, caring instructors
Guidance counseling
College planning
Personalized Learning Plans
Embedded opportunities for socialization
Reno Campus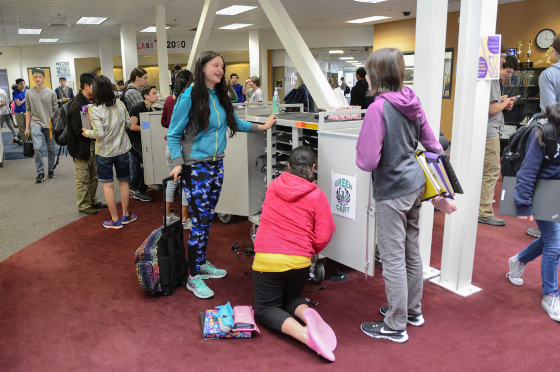 While the deadline to submit applications for the 2018-2019 school year has passed, it's not too early to think about 2019-2020. A free public day school for profoundly gifted middle and high school students located on the University of Nevada, Reno campus, the Davidson Academy provides an environment designed to fit your social and academic needs. If you are interested in applying to the Academy for the 2019-2020 school year, the application will be posted this August. Please review the Reno Campus Qualification Criteria and Reno Campus How to Apply pages of our website for more information.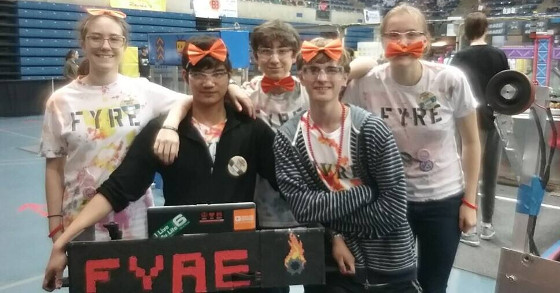 The Reno-based FYRE robotics team, featuring many Davidson Academy students, recently had a great showing at a regional competition, winning the Imagery Award which "celebrates attractiveness in engineering and outstanding visual aesthetic integration from the machine to the team appearance."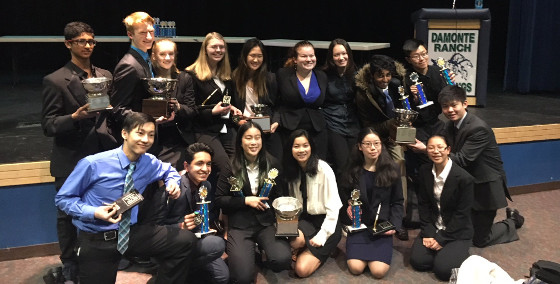 The Academy's speech and debate team has had their most successful competition season to date! In the last several years, the team has grown to over 30 members. This year, they won five bowls in different events.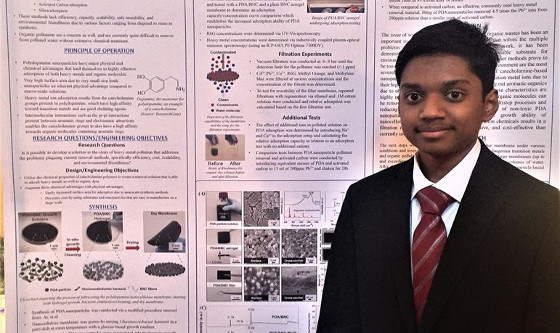 Academy student Yatin finished in first place at a Las Vegas science fair and will be going to the Intel Science and Engineering Fair (ISEF) in May! His project title is Development of a Highly Efficient Low-Cost Filter for Effective Dissolved Heavy-Metal and Organic Contaminant Removal.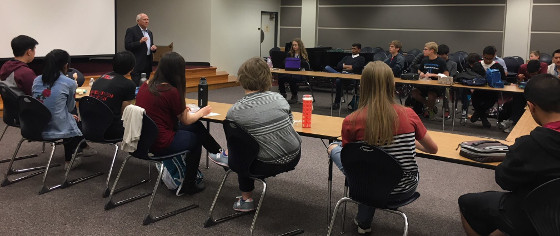 Dr. Mick Hitchcock, a bio-pharmaceutical researcher specializing in the development of life-changing antiviral treatments such as for HIV/AIDS, recently spoke with Davidson Academy students at the school as part of the Discover Science Lecture Series.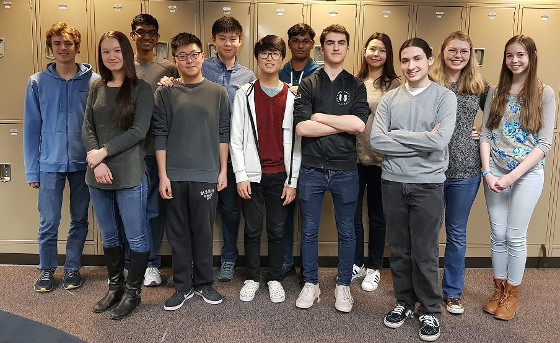 The Davidson Academy's International Public Policy Forum team advanced to the Sweet Sixteen round of this international written debate competition with teams from 17 countries and 30 states!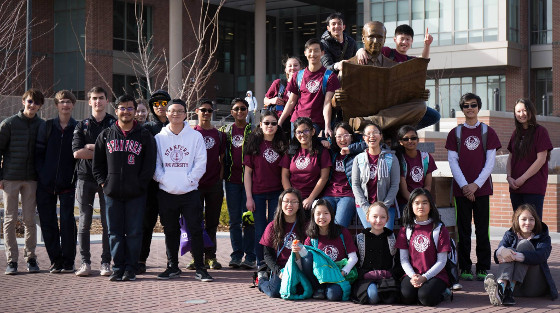 The Academy's Science Olympiad middle and high school teams each finished in second place recently at the state competition in Las Vegas. Students earned many medals in individual events.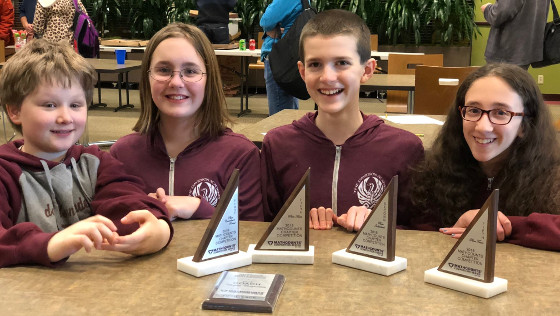 The Academy's Online High School Portland, Ore. MATHCOUNTS team (pictured above) had an outstanding performance at a recent competition!

The Academy's day school finished in first place in the Nevada MATHCOUNTS State competition. Two students, Vishwath G. and Sophie L., will be advancing to the national competition in Washington, D.C.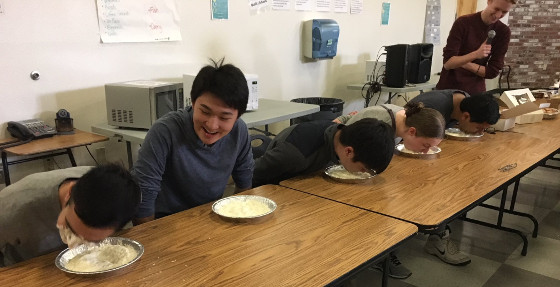 Students and instructors recently celebrated Pi Day at the Academy, with a pi recitation, pie judging and pie eating contests!
Other Activities
Twenty-one of next year's Academy graduates are being recognized by the National Merit Scholarship Program as either Commended Students or Semi-Finalists out of 50,000 scorers nationwide on the 2017 PSAT.

The 2018 Nevada Prize Exam in math was recently taken by 500 students from 16 high schools. Two Academy students won top prizes, Jason L. first place & Vishwath G., second place.

Congratulations to Academy student, Sky N., for being accepted into the Yale University Global Scholars Summer Institute this summer in Beijing!

Congratulations to Academy students Annabelle C., Ellie H., Darsh P., Mikaela P. and Wendy T. who are Alliance for Young Artists & Writers 2018 Scholastic Art & Writing Awards National Medalists!

"The Davidson Academy is more than a laundry list of opportunities forged or found, it's more than an 'intellectual environment', more than a 'rigorous education'. It's a home. Credits, resumes, numbers on a page, all fall away in the face of what is truly amazing about this place."

--Grace Hong, Davidson Academy Graduate
If you have been forwarded this Davidson Academy Prospective Student eNewsletter, and wish to receive future newsletters, sign up here.

Davidson Academy
Reno, Nevada
www.DavidsonAcademy.UNR.edu
communications@davidsonacademy.unr.edu
      
For more prospective student information,
visit the Davidson Academy Tours page.

Davidson Academy eNewsletter Archive.






Connect with us!