To receive future Davidson Academy Prospective Student eNewsletters, sign up here.


April 2017
---
Like the new Davidson Academy Twitter page for updates about the school!
Davidson Academy's Online High School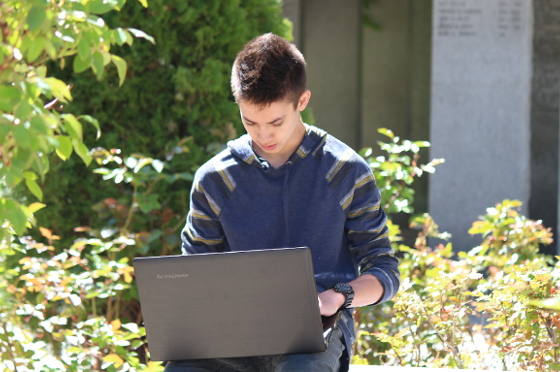 This Saturday, April 15 - App Deadline for Online Option
The Davidson Academy, a school for profoundly gifted students located on the campus of the University of Nevada, Reno, is launching a full-time online high school. Now students whose families are unable to relocate to Reno can access the Academy's exceptional educational experience.

For the 2017-2018 academic year, the online high school will include accredited courses for incoming freshmen and sophomores, with courses for juniors and seniors being added in subsequent years. Applicants must be 12 to 15 years old as of Sept. 30, 2017, submit ACT or SAT scores according to the Davidson Academy Online High School Qualification Criteria and commit to being full-time students. This age requirement will be expanded upward as more advanced high school courses are added in the future. Please visit the Online High School's How to Apply page.
The online high school final application deadline is April 15, 2017. Applications that are completed by the deadline will be held open for students registered for the March 11 SAT or April 8 ACT. Visit www.davidsonacademy.unr.edu/online for more information.
Student to Student

Dear Prospective Students,

Hello! My name is Hannah Huh, and I'm a senior in my seventh year at the Davidson Academy. Having spent over a third of my life here, there's so much more I could say about being at Davidson than would fit this page, but I'll try to keep it concise!
Beyond having academics of the highest caliber, the culture at Davidson really encourages a unique and intimate community—students are always approaching each other, connecting over their interests and collaborating, regardless of whether they are both sophomores or separated by five grade levels. For instance, while organizing my school's TEDxDavidsonAcademy event just last year, our team consisted of sixth graders and seniors alike working together to pull off the event. That kind of dynamic permeates the academic, extracurricular, and social spheres within Davidson.

Our club per capita is also ridiculously high—over 25 clubs for a student body of around 160, last I checked—but that's only because the students here have such diverse interests. Having co-founded our TEDxDavidsonAcademy team while also having participated in PAWS, Sierra Vista Club, DECA, Student Council, India Club, and Speech and Debate (not all at the same time!), I can definitely say that our small student body does not restrict our extracurricular opportunities. And even if your interests lie outside of what our clubs already offer, you can easily start your own club. Davidson trusts its students to challenge themselves and work hard at what they love. As a result, you really have the freedom (and support) to pursue any endeavor: throughout the year you'll see students doing everything from participating in Pi Day celebrations (consisting of a pie-eating and pi-reciting contest, as well as a pie potluck) to holding school-wide debate competitions about the nature of free will and science.
Like other students who have written for this newsletter in the past, I can honestly say that one of the greatest aspects of the Davidson Academy is its teachers. Our teachers are amazing. They're the type of people that will never turn down your (endless) follow-up questions after class or the chance to chat with you during lunch about anything from black holes to your latest volleyball tournament. They build an environment that absolutely welcomes inquisitive minds and a genuine love of learning. And while I'll admit you'll probably have to work hard for an A, that's also what I love about our school. In the 40+ courses I've taken at Davidson, our teachers have always made it their goal to challenge us to think critically and engage with what we're learning. Most importantly though—they really do care about the students, and I am truly, truly grateful for all that they do for us.
Davidson makes it a top priority to ensure that students reach their full intellectual potential. One year, when another student and I had schedules that conflicted with the only Calculus II class offered at the Academy, our teacher created another class, at a different time. Just for the two of us. Even our Friday electives—which only constitute a portion of our course load—are representative of how our teachers genuinely try to provide learning opportunities that are simultaneously unique, fun, interesting, and thought-provoking—classes I've taken include Philosophy of Science, a media studies class on the TV show Seinfeld, Astronomy, Science of Happiness and Quantum Mechanics, just to name a few.

Finally, our access to the University of Nevada, Reno (UNR) is something that opens doors for all the students at Davidson to explore their interests. Besides having the ability to dabble in different disciplines like Archaeology, Theater, and Psychology, being able to take any course I wanted to at UNR is how I found my primary academic interest—computer science. Later, having the opportunity to build relationships with my UNR professors was ultimately how I found a job that combined my interests in computer science research and STEM education for youth. And nearly every student I know who wanted to find a research opportunity with a lab or professor at UNR has been able to do so, with several students even becoming co-authors on research publications.

The Davidson Academy may not be your typical school, but its unique qualities are what make it so exceptional. When I came to Davidson I found a place with endless opportunities to thrive, an environment that challenges students to reach their full potential and empowers them to pursue their passions. If any of this sounds right for you, then please, apply! I promise you won't regret it.

~ Hannah Huh, Davidson Academy student
Davidson Academy's Reno School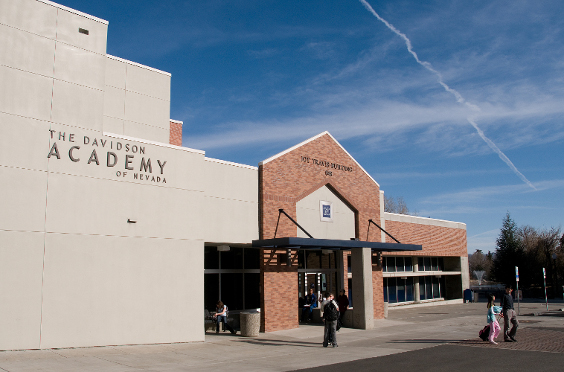 The Right Fit for You?
While the deadline to submit applications for the 2017-2018 school year has passed, it's not too early to think about 2018-2019. A free public day school for profoundly gifted middle and high school students located on the University of Nevada, Reno campus, the Davidson Academy provides an environment designed to fit your social and academic needs. If you are interested in applying to the Academy for the 2018-2019 school year, the application will be posted this August. Meanwhile, you can review the Qualification Criteria  and How to Apply pages of our website for more information.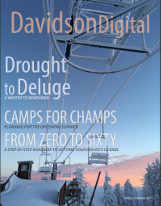 An online magazine produced by Academy students, Davidson Digital Winter 2017 contains information about the Reno/Tahoe area, arts, summer camps, school activities and more.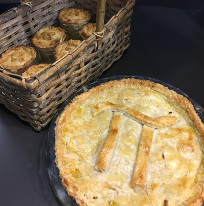 The Academy celebrated Pi Day by hosting its annual pie-eating celebration for faculty and students.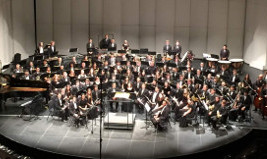 The Nevada All State High School Band and Orchestra performed in Reno this year. Four Academy student musicians (Melissa Bak, Christoph Kemmelmeier, Alex Peng and Emhyr Subramanian) performed at this prestigious event!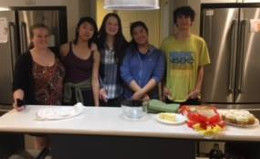 Davidson Academy students recently cooked dinner for families staying at the local Ronald McDonald House Ronald McDonald House Charities Northern Nevada.

Congrats to the Davidson Academy students who qualified for scholarships through Nevada DECA! These students are now preparing for the national DECA Inc. competition this month.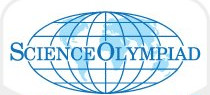 Congrats to the Academy's Science Olympiad team for their hard work preparing for competition!
---
If you have been forwarded this Davidson Academy Prospective Student eNewsletter, and wish to receive future newsletters, sign up here.

Davidson Academy
Reno, Nevada
DavidsonAcademy.UNR.edu
communications@davidsonacademy.unr.edu
      
For more prospective student information,
visit the Davidson Academy Tours page.

Davidson Academy eNewsletter Archive.







Connect with us!