Winter 2017
---
Featured Topic - Acceleration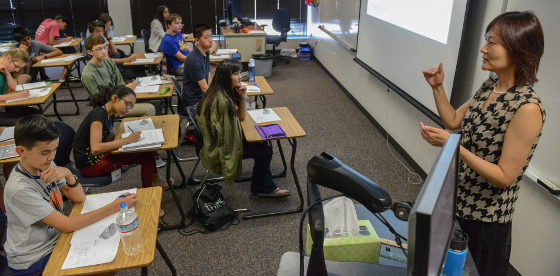 Making a plan for a profoundly gifted student's education can be challenging for a variety of reasons including: the availability of cost-effective strategies, the school's familiarity and knowledge about the gifted population, a student's unique learning style and personality, etc. Parents and teachers share the goal of wanting the student to be learning and engaged in class. Acceleration is one alternative that can be implemented in different ways depending on what works best for the student. The acceleration options below are widely used with our Young Scholar families and their schools.

Grade acceleration – Students are moved to a higher grade level for all subjects. Grade acceleration is an option that can meet both the academic and social needs for students.

Subject acceleration within the school – The student joins higher grade level classes for specific subjects.

Subject acceleration through online courses – The student takes online courses while their grade-level classmates are studying the same topic. This option allows for the student to be more self-sufficient, while also allowing for regular teacher interactions.

To learn more about acceleration and its benefits, check out the resources below:
Professional Development Courses, Conferences and Careers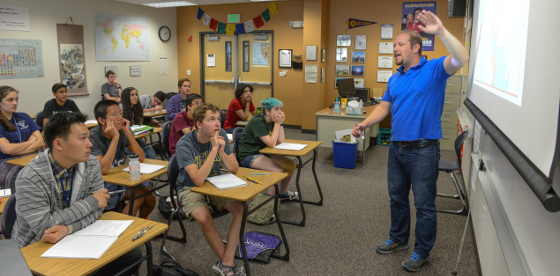 Courses
Northwestern Center for Talent Development – Online Professional Development
CTD strives to have a positive impact on educational policy and to educate the public about giftedness. Through professional development, outreach and advocacy efforts, CTD informs educators about developments in the field of gifted education and supports their efforts to successfully meet the unique educational and social-emotional needs of students with exceptional academic abilities. Check out their calendar for upcoming modules.

University of California, Irvine Division of Continuing Education
Offered completely online, UCI Division of Continuing Education's Gifted and Talented Education Specialized Studies program will help you develop a new skill set and gain a deeper understanding of the needs and issues of this diverse group of students.

Conferences
Texas Association for Gifted and Talented Leadership Conference, April 15-17, 2018
The TAGT Leadership Conference is a 2-day annual event for administrators, coordinators, and specialists, focusing on best practices and promising programs. The conference is attended by approximately 250 leaders in gifted education. For more information, call 512-499-8248.

Beyond IQ Conference, April 27-29, 2018
Professionals who work with profoundly gifted children are invited to learn more about this unique segment of the gifted population. A keynote presentation will be given by P. Susan Jackson, director of the Daimon Institute for the Highly Gifted.

SENG Annual Conference, July 20-22, 2018
Held in San Diego, enjoy keynote presentations from Tom Clynes, Patricia Gatto-Walden, Ph.D., and Leslie Anita Hosey, Ph.D.

Careers

Resources
Grants
Curriculum Resources
Davidson Academy - Online High School
Open to students in eighth grade and above living anywhere in the United States, the Online High School takes the best of a Davidson Academy education and builds a robust online community where students can thrive. Online students benefit from:

Live, synchronous sessions
Quality peer interactions
Small class sizes
Responsive, caring instructors
Guidance counseling
College planning
Personalized Learning Plans
Embedded opportunities for socialization
The 2018-2019 application deadline is Feb. 28, 2018. Please visit the Online High School's How to Apply page and read the Online High School Qualification Criteria for eligibility information. If you have questions, please email online@davidsonacademy.unr.edu.


Davidson Academy - Reno Campus
If you know a student who is looking for an environment to better fit their social and academic needs, consider the Davidson Academy! The Davidson Academy in Reno is a free public day school for profoundly gifted middle and high school students located on the University of Nevada, Reno campus. Classes are grouped by ability level, rather than by age-based grades providing profoundly gifted young people an educational opportunity matched to their abilities, strengths and interests.

The 2018-2019 application deadline is Jan. 15. To apply, students must be at the middle or high school level across all subject areas and score in the 99.9th percentile on IQ or college entrance tests, such as the ACT or SAT. Please visit the Davidson Academy's Qualification Criteria and Application Review Process pages. Applications are reviewed on a monthly basis. Visit the How to Apply page to access the application.


Educators Guild
All educators, and people interested in gifted education, are invited to join the Discussion Group on Facebook and contribute to the ongoing conversation about how to best serve the academic needs of our nation's brightest students.


Davidson Young Scholars
The Davidson Young Scholars program provides FREE services designed to nurture and support profoundly gifted young people and their families, including talent development and educational advocacy, an online community, annual get-togethers, and the Ambassador Program. Applications are due the first of each month. For more information, see the How to Apply and Qualification Criteria pages.
"Tell me and I forget, teach me and I may remember, involve me and I learn."

--Benjamin Franklin
If you have information to include in a future newsletter, please contact us at EdGuild@DavidsonGifted.org.

If you have been forwarded this eNews-Update, and wish to receive future editions, sign-up here.
Davidson Institute for Talent Development
Supporting our nation's brightest young minds
Reno, Nevada

EdGuild@davidsongifted.org
www.DavidsonGifted.org/Educators-Guild
DavidsonGifted.org
      
Visit the Davidson Institute's Educators Guild Newsletter archive page.







Connect with us!